Front-end Jobs near
Atlanta, GA
We are seeking very talented user interface engineers to develop and enhance existing web based applications. Utilize your broad base of experience to translate difficult business logic into readable and maintainable code. Make a direct impact on the company with your web front end expertise. We use cutting edge technology. Our company is growing rapidly, and we need more good people to help us do so.
Do you like building cutting edge applications? Do you write clean elegant code effortlessly while continuing to stretch the realm of what is possible? Do you get excited about using new technologies?
How you will be doing this
Create amazing products using the latest technologies.

Working with exceptional designers and developers from places like Google, CNN & Amazon.

Collaborate with design and engineering team members to solve complex problems.

Working in an Agile/Scrum environment with a team of seasoned developers, product owners and test engineers to develop web-based responsive Travel Solutions.

Developing in a startup environment where you can make an impact.
You are an excellent candidate if
You love learning and solving problems.

Self motivated and proactive.

You push the envelope of the UI.

Knowledge of Angular, React, SASS, Angular-Material, Gulp, Webpack, NPM and ExpressJS. Google Analytics experience is a plus

Familiarity with our old stack: JQuery, BackboneJS, RequireJS, Underscore, and LESS is a plus.

You have significant experience creating effective user interfaces on multiple platforms for the web , mobile and tablet using responsive development.

You have experience working with or assisting developers to implement designs.

You have experience planning and executing both redesign and new-concept design projects, from start to finish.

You are passionate about creating a fantastic user experience while being practical about what can be achieved in realistic timelines.

You are passionate about what you do and obsessed with keeping your Code Ninja skills sharp.

You look at the world around you and see opportunities to improve the design and experience of everything.

You can provide live links to sites / applications / github repos that you're most proud of. Portfolio, graphical assets, code snippets, UI components, etc.

You are authorized to work in the U.S. and either living in or willing to relocate to the Atlanta area. Unfortunately, we are not currently sponsoring visas.
Apply
React Angular Software Engineer
MakeMydeal, a new Cox Automotive company, specializes in creating the absolute best online communication experience for automotive car purchases today. This is an exciting time for our business as we have developed a leading eCommerce solution that helps automotive consumers connect with car dealerships to agree on the terms of their deal online before visiting the dealership.
The React Angular Software Engineer should be a full stack Javascript engineer who is deeply technical and works very well in an agile, dynamic, team oriented environment. This individual must be eager and capable of learning new skills and technology, and be motivated to work in a fast paced atmosphere where wearing multiple hats is encouraged. This position will report to the Sr Delivery Manager of the core product.
Technology We Use:
JavaScript, React, Redux, Node, Angular, Seneca, Mongo, HTML, CSS
Your Role:
Develop new or maintain existing programs based on specifications

Develop, implement and maintain unit tests of programs

Actively participate in agile team activities

Participate in functional test planning and testing for the assigned applications, functional areas or projects

Participate in problem solving and troubleshooting for the assigned applications, functional areas or projects

Share knowledge by effectively documenting work

Stay current with changes in the technical area of expertise

Develop and maintain a thorough knowledge of the assigned applications, functional areas or projects

Actively support MakeMyDeal products across web and mobile platforms
Apply
Front-end React.js Javascript Developer, Redux, Redux-Saga - Immediate Contract (Remote)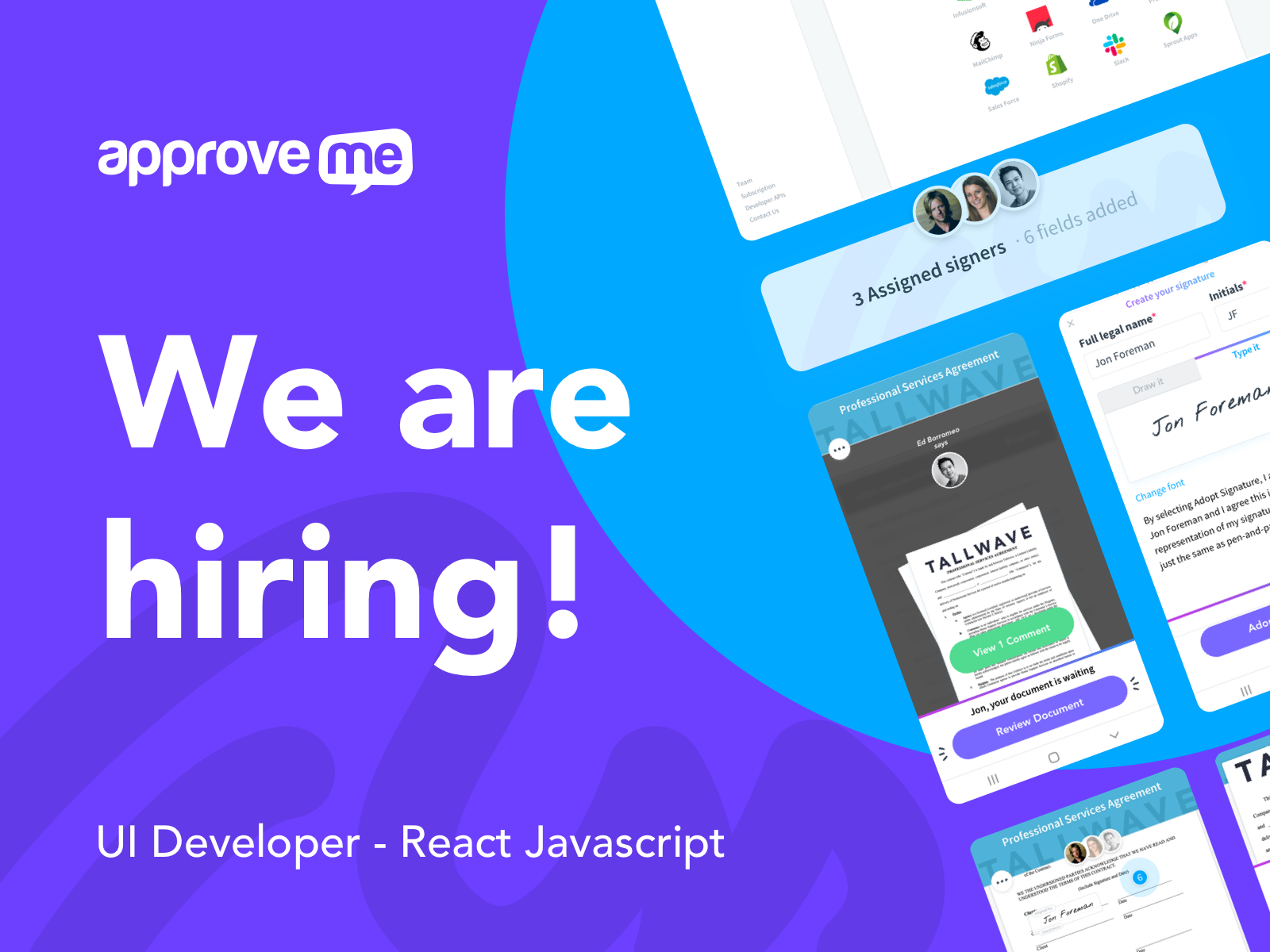 This is an opportunity that could change your portfolio forever.
ApproveMe is in immediate need of a two Full-time Freelance React JS developer's to work along side our product manager, UI/UX Designers, lead developer and UI engineers. We are building a powerful and gorgeous cloud-based Document Signing platform and our developers get to work on exciting and complex problems.
Our team is made up of wildly talented designers and developers with backgrounds working on products such as Active Campaign, Twitter, Atlassian, and Helpscout. Together we have been secretly crafting an absolutely inuitive, user-focused SaaS product (with personality, pizzazz, and plenty of unicorn shimmer) based off of 5+ years of user feedback from thousands of our customers. We will be launching in a 2-3 months, all we are missing is someone like you to jump on-board. If you are our developer, you'll learn a ton working with a creative, fun team who value your technical expertise.
Apply now and work remotely at ApproveMe
Apply
Community of Volunteers creating a map helping people who are homeless around the world
Traditional social media was becoming an ever more 'pay to play' environment, so we dropped it and began building our own platform, designed to allow the vision to massively scale and increase the well-being created. We're now planning to launch a new platform for all the many projects working to create societal good in ways which aren't rewarded in today's economic system, most of which are struggling as they don't have the money to attract attention via social media due to this change.
Apply now and work remotely at Focallocal - The Public Happiness Movement
Apply
Global volunteer community bringing communities together build projects targeting all societal issues. Meteor Reactjs
Traditional social media was becoming an ever more 'pay to play' environment, so we dropped it and began building our own platform, designed to allow the vision to massively scale and increase the well-being created. We're now planning to launch a new platform for all the many projects working to create societal good in ways which aren't rewarded in today's economic system, most of which are struggling as they don't have the money to attract attention via social media due to this change.
Apply now and work remotely at Focallocal - The Public Happiness Movement
Apply
Jobs farther away