Front-end Jobs near
Atlanta, GA
Sorry, no listings for this city at the moment.
Senior Front End Developer
About Us
At Filestage we believe that broken workflows poison teams with miscommunication, friction, and frustration.
Our mission is to fuel teams with a rock-solid workflow. With our software, we empower people to produce
great results together and to be happier at work.
Over 500 companies all over the world already benefit from happier and more productive employees with
Filestage. We are a diverse team from around the globe going to make Filestage the easiest way for teams to
manage their content review process, and we want your help!
Apply now and work remotely at Filestage
Apply
Front-end React.js Javascript Developer, Redux, Redux-Saga - Immediate Contract (Remote)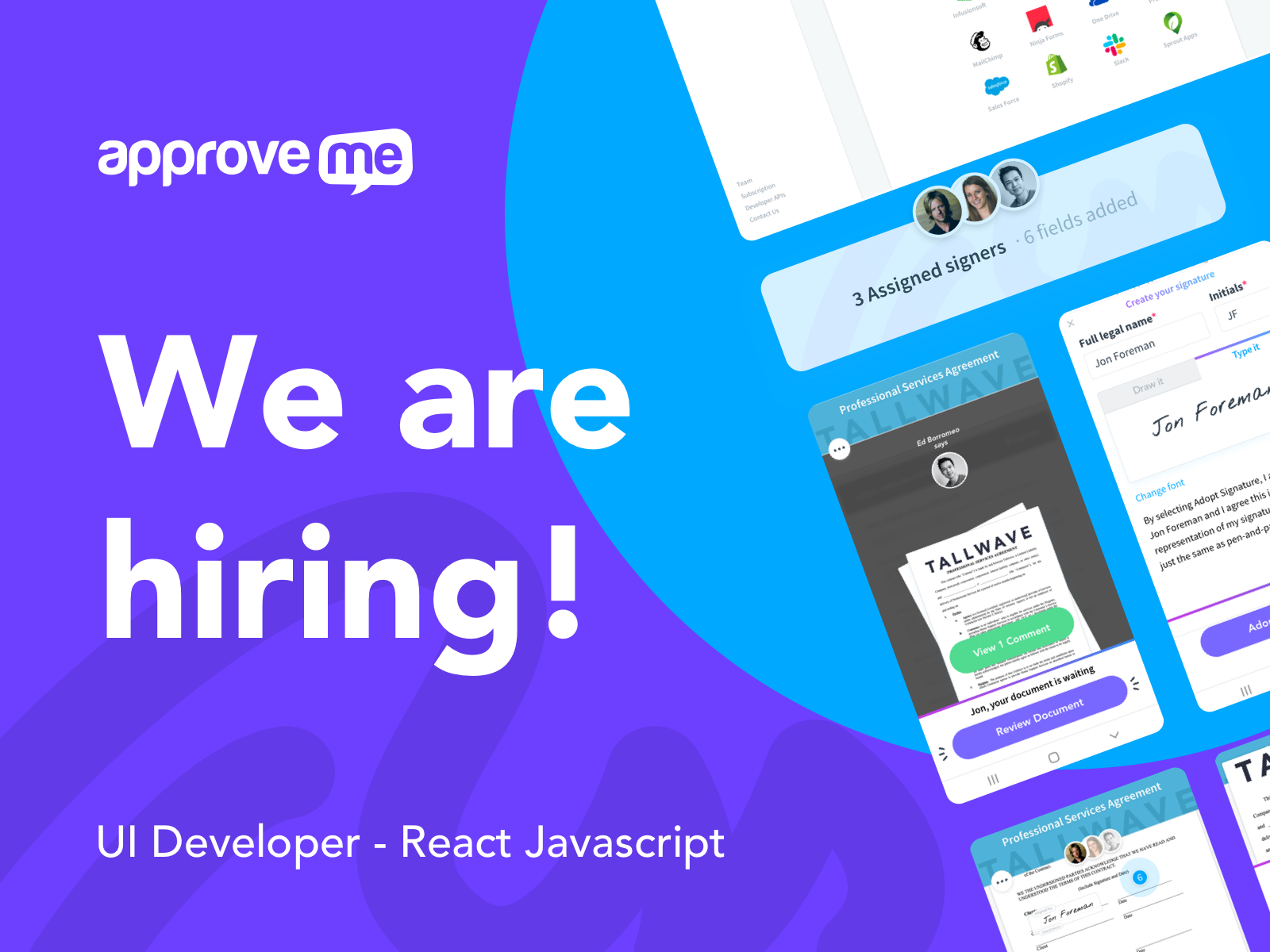 This is an opportunity that could change your portfolio forever.
ApproveMe is in immediate need of a two Full-time Freelance React JS developer's to work along side our product manager, UI/UX Designers, lead developer and UI engineers. We are building a powerful and gorgeous cloud-based Document Signing platform and our developers get to work on exciting and complex problems.
Our team is made up of wildly talented designers and developers with backgrounds working on products such as Active Campaign, Twitter, Atlassian, and Helpscout. Together we have been secretly crafting an absolutely inuitive, user-focused SaaS product (with personality, pizzazz, and plenty of unicorn shimmer) based off of 5+ years of user feedback from thousands of our customers. We will be launching in a 2-3 months, all we are missing is someone like you to jump on-board. If you are our developer, you'll learn a ton working with a creative, fun team who value your technical expertise.
Apply now and work remotely at ApproveMe
Apply
Full stack Meteor developer for a small SaaS company
Vianney, the CTO, was the French Meteor ambassador since 2013, organised 36 Meteor meetups. Developing Meteor projects full-time since then.
The Whole Package
Location: Planet Earth.
You just need the skills and drive to succeed in this role and the ability to work from anywhere.
How to Apply
In order for you to apply, simply send over a message including 2-3 projects / websites you've developed in the last 3 years!
We strive to make sure you never go more than seven days without hearing from us 😊
Talk soon ❤️
Apply now and work remotely at lempire
Apply
Jobs farther away
Senior Software Engineer (Node.js)
We're seeking a Node.js expert tech lead excited to work with a small, highly-skilled engineering team to scale and maintain our industry-leading SaaS.
Your primary responsibility will be implementing the technical strategy and leading the development of our server-side applications, microservices and API code. This includes supporting our family of dedicated integrations and mobile applications. With a growing audience of more than 2,000 businesses logging in each day to Float, your role will have a massive influence on team productivity across the world.
You'll be working alongside a small, skilled team of Senior Engineers across five countries, participating in code design, architecture, maintenance and refactoring decisions. You'll be working on new features and integrations, as well as managing ongoing technical debt. You'll be active in code reviews and coordinating engineering efforts across teams and products.
As a fully-remote team, our leads are successful managers of one, and we're looking for senior level candidates who's primary focus and love is the work, not the management of others. Youll report directly to our CTO, who is based in New York.
Benefits
Co-working expense budget: A budget for when you'd like to work out of home.
Work where you want: As long as you have great internet speeds, be wherever you want to be.
Annual team meetup: We get together as a full team every year. The last two were in Athens and Lisbon.
Medical, dental & vision: In the US, we pay 50% of your coverage, including partners and children.
Home Office Expense Budget: We help you kickstart or upgrade your home office setup.
Team Liquidity Pool: Rewarding our team if there's ever an exit.
Apply
Senior Full Stack Developer
Join The Badger Den And Shape The Future Of Amazon Advertising
Join Our Software Engineering Team
At Ad Badger, youll be joining a hard-working team dedicated to helping Amazon Marketers & Sellers. Were on our way to being THE go-to Amazon PPC tool, community, and training platform. As a new member of Team Badger, youll contribute to growth, conversion, and retention. Weve got the fastest-growing Amazon PPC Blog & Launched the Worlds First Amazon Podcast.
**The Badger cares about quality. ** Expectations will be high, but your workload will always be fair and manageable, and your contributions will be openly appreciated.
If you believe that passion, team-work, and variety are the spices of life, this job will be an excellent match for you. Our development team uses the Scrum software development framework to squash bugs, eliminate technical debt, build exciting new features around Amazon APIs, and help refine engineering practices. Staying organized, being adaptable, and a proactive attitude are all essential to this position.
Video from Michael, CEO, and Badger BFF: https://www.youtube.com/watch?v=ofwVV-NRJCA
The Person We're Looking For:
You are a full stack engineer with 5+ years of experience developing web/SaaS solutions in a team environment.
You have some experience in PHP and Vue.js (or other similar front end frameworks).
You think independently and critically, but act with a team-first mentality.
You are fearless and act with a propensity to solve problems and ship code.
You enjoy learning new technologies and understand that every problem and every tool is different.
You are a technical leader and proactively mentor others on your team.
You have knowledge of good software development principles and the intent behind them.
Your code is a delight to others on your team; you constructively help your team to produce delightful code.
Youre comfortable in a small, fast-moving, virtual team ability to pull together in an early stage startup.
You can collaborate on technical details in one moment, but can also speak to customer use cases in another.
You can work on-site at our offices in Austin, TX, or are willing to relocate.
Day In The Life:
This is a full time on-site position in Austin, TX. The team is exploring ideas on how to be more agile with our current office space; this includes a transition into mostly remote work with occasional face to face meetings.
You will
Work in a small, distributed software team to develop the core Ad Badger application using the Scrum framework.
Design, develop, maintain, and ship new features, architecture improvements, and bug fixes. Warning: We have fun doing these things.
Work on interesting front and back end problems, beyond your run-of-the-mill SaaS product from inspiring UX improvements to complex synchronization jobs with Amazon MWS APIs.
Design new technical solutions, microservices architecture, and potential features, with an eye towards growth.
Guide the development team to use better engineering practices and increase quality (continuous integration/deployment, unit testing, code reviews, documentation, etc.).
Identify technical debt, generate backlog items to reduce technical debt, and translate the value of resolving technical debt to non-technical stakeholders.
Understand and keep up-to-date with changes to Amazon APIs.
Aid in backlog refinement to ensure product backlog items have sufficient information and are ready for developers to work.
Head on over to https://www.adbadger.com/senior-full-stack-sw-engr/ to complete a digital interview!
Apply