Front-end Jobs near
Austin, TX
Sorry, no listings for this city at the moment.
Sr. Full-Stack Developer (Node, Vue, TypeScript, Python, SQL, Elastic) - Fully Remote Startup
new
Build your career as part of a growing startup!
Join Specula as our first Sr. FullStack #RemoteDeveloper, be part of building a great team & product!
We are a self-funded startup (towards round-A), developing the next-gen of APM/IT Monitoring with already 10+ paying enterprises.
We're starting to scale globally and looking for top-global talent to join our team, just like you!!
Our environment consists of Node.js, Vue.js, Python, and some Java. We need you to be great at everything :) but backend is where we need you to excel most…
We are looking for someone who's super excited about joining an environment of a fast-paced remote startup. To be a great remote-developer, you need to be able to act autonomously while taking full ownership over your deliverables and master async-communication.
Being a small team, we all wear many hats, this is a great opportunity to grow and play a significant role.
The salary for this position is $55,000 annually.
Apply now and work remotely at Specula.io
Apply
Front-end React.js Javascript Developer, Redux, Redux-Saga - Immediate Contract (Remote)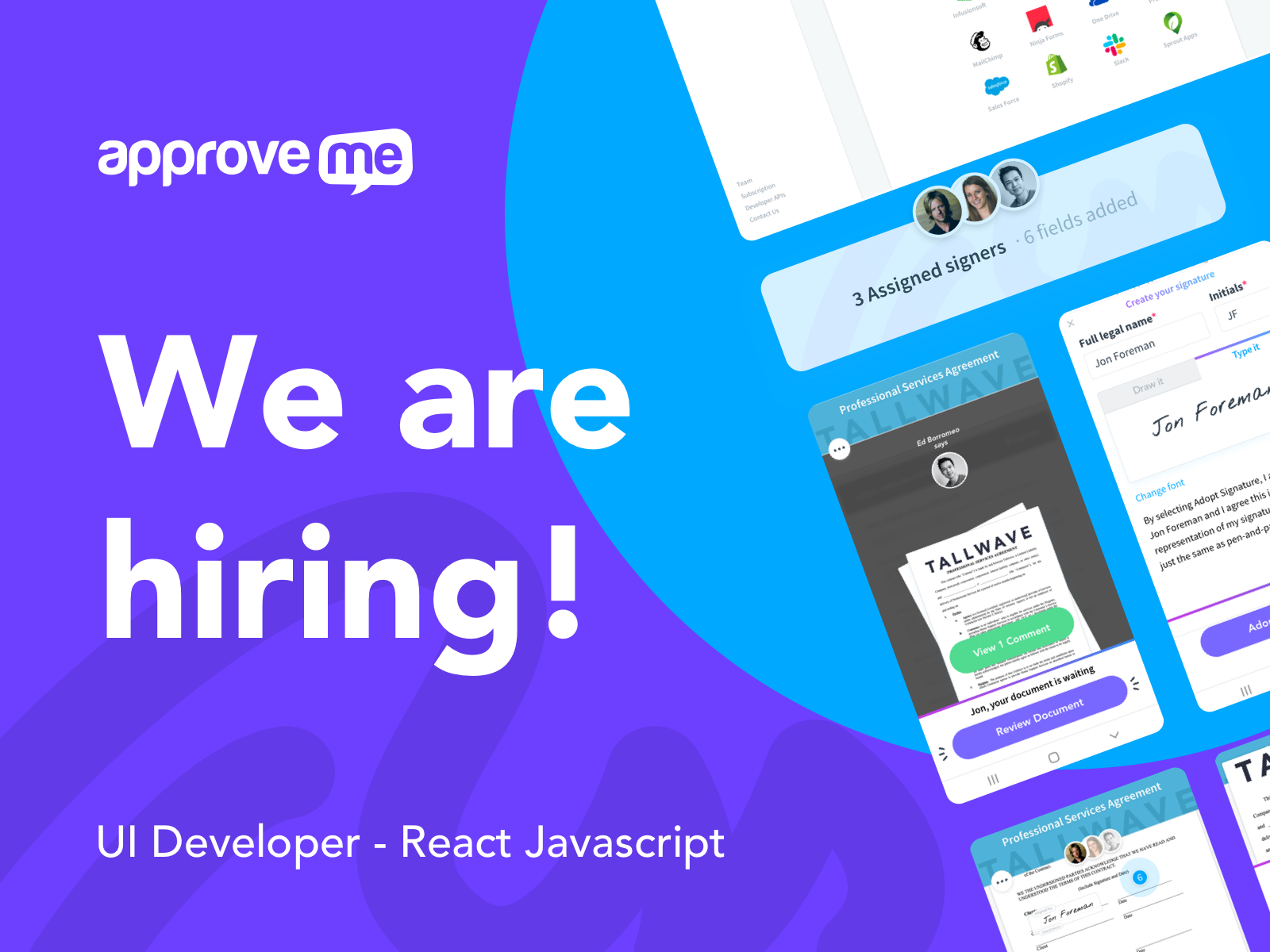 This is an opportunity that could change your portfolio forever.
ApproveMe is in immediate need of a two Full-time Freelance React JS developer's to work along side our product manager, UI/UX Designers, lead developer and UI engineers. We are building a powerful and gorgeous cloud-based Document Signing platform and our developers get to work on exciting and complex problems.
Our team is made up of wildly talented designers and developers with backgrounds working on products such as Active Campaign, Twitter, Atlassian, and Helpscout. Together we have been secretly crafting an absolutely inuitive, user-focused SaaS product (with personality, pizzazz, and plenty of unicorn shimmer) based off of 5+ years of user feedback from thousands of our customers. We will be launching in a 2-3 months, all we are missing is someone like you to jump on-board. If you are our developer, you'll learn a ton working with a creative, fun team who value your technical expertise.
Apply now and work remotely at ApproveMe
Apply
Backend Developer (Node.js)
We are UBIO and we automate the web.
We are looking for an optimistic and resilient engineer who has developed markedly complex services in Javascript or Typescript. You would have been involved with platforms and services that perform and scale well on the cloud and you also enjoy discussing complex engineering topics. We are a small Engineering team, relying on tools like GitHub and Slack to keep us communicating efficiently. We also rely on architectural principles and guidelines to ensure our colleagues can pick up our work in the future, if necessary.
Apply now and work remotely at UBIO
Apply
Jobs farther away