Front-end Jobs near
Boston, MA
Senior Software Engineer, Front end
About the team
Front end engineers at HubSpot drive the implementation and design of our products' user interface. They build the experience each customer has when interacting with the HubSpot product. We develop our web applications to the highest standard and each engineer is given the tools to start contributing from the very start.
We build all our products using a combination of React, Redux, ES6 and SASS. Check out our product blog to find out how we're experimenting with React and PlanOut.
What we are looking for
Previous software engineering experience

Expert level knowledge of JavaScript

Experience with a JavaScript framework such as React, Angular, Backbone or Ember

Demonstrated empathy for design and UX best practice

You're comfortable with HTML, CSS and related technologies

Bonus points for ES6, SASS, Redux or Flux
Apply
Senior Javascript Engineer
Bevi is seeking a Senior Javascript Engineer. As a Javascript Engineer, your guidance and input drive architecture and functionality decisions. Whether you prefer providing mentorship to junior engineers or acting as a technical sounding board for all, this role invites seasoned engineers to exercise their deep expertise. Our ideal candidate is eager to stay on the cutting edge of the web market across a broad spectrum of industries, and is excited to work across all components: web UI, backend, and mobile applications. We are a small and fun software team in a fast-growing hardware startup. Our customers love our product and you will play a crucial role in making them even happier. If you love thinking through new ideas and interactions, how to execute them in an innovative way, and have a deep respect for user experience, come join our team!
What you will do:
Collaborate with cross-functional teams to define, design, implement and ship new features. Work with outside data sources and APIs

Maintain and expand the Bevi applications for on our web products and machines, using open-source Javascript libraries including React.js and Redux

Focus on innovating and creating solutions that add value and amaze the end user

Contribute to code quality by writing Unit, UI, and Integration tests

Enforce code styles and best practices via code reviews and mentorship

Keep our codebase reliable and maintainable
How you will grow:
Work at the heart of a start-up in high-growth mode

Work with a very broad set of technologies, from embedded programming to mobile Android apps, from UI to backend and database, and use the latest tools and processes

Continuously explore, evaluate, and implement new procedures and processes to maximize efficiency and effectiveness of our product

Engage with a talented software and hardware engineering team drawn from diverse sectors and learn from best-in-class leadership

Deploy your energy and expertise to further the company's mission of sustainability, wellness, and positive personal and environmental change
We think you will bring:
Mastery of modern Javascript (ESNext preferred)

Prior work in an Agile environment (Scrum preferred)

Knowledge of web services, specifically REST APIs

Hands-on experience building Web Apps from initial concept to production ready

Work with Web Apps that integrate with custom native APIs is preferred

Experience building and shipping non-trivial applications of at least reasonable complexity

Strong analytical and technical skills and high level of detail-orientation

A true self-starter approach and sense of ownership

A hunger for keeping up with new software technologies - that's just who you are. Our stack includes React.js, Redux, Android, Java, and Docker

Genuine desire and commitment to always learn, improve, and produce the best work possible

An agile mindset to thrive in a fast-paced environment

A BS in CS or similar discipline - or the equivalent in independent experience

NOTE: Candidates must be authorized to work in the US for any employer in order to be eligible for this role
Apply
new
Job type: Permanent
Experience level: Senior
Role: Senior React Developer Location:
Location: United Kingdom - Remote
Industry: Agile Software Development
Company size: 1-10 People (growing)
Passionate about web development? Have plenty of experience working in React and JavaScript with a proven track record delivering large scale systems? Looking for a challenging role to help architect, design and build a cutting-edge React application?
We need an ambitious, motivated and talented developer to join our team building the next generation of software aimed at the not-for-profit sector.
We are a n3o - A UK based startup with a distributed development team.
What we're looking for:
We are looking for a React JS developer to work alongside the backend team on our CRM system. You will be working as part of a globally distributed team so this role is open to candidates based anywhere in the UK. This takes a high level of motivation and the ability to self-manage. This role requires excellent written and verbal English communication skills and the ability to communicate professionally with both technical and non-technical people.
The role is unique in that not only will you be working with exciting technology and a talented & enthusiastic team, you have the chance to be part of something truly worthwhile developing software that helps not-for-profits do more to help some of the most vulnerable people in the world. We want you to be as excited about this prospect as the rest of the team are!
Salary: £40,000 - £50,000
Perks: Working hours: Flexible. Friendly team and value-led organisation, generous training allowance, 22 days holiday & regular staff meet-ups
Apply now and work remotely at n3o Ltd
Apply
Front-end React.js Javascript Developer, Redux, Redux-Saga - Immediate Contract (Remote)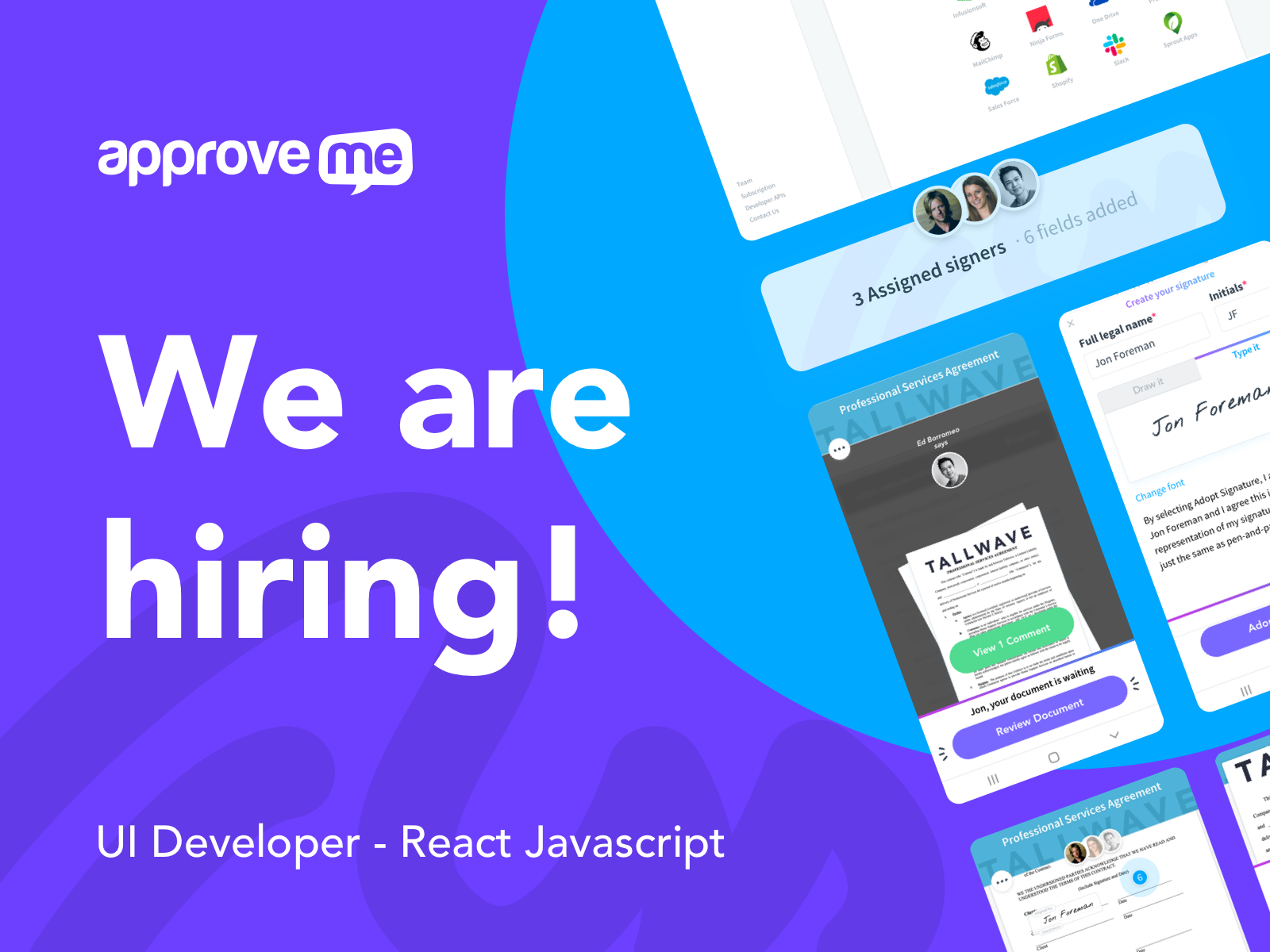 This is an opportunity that could change your portfolio forever.
ApproveMe is in immediate need of a two Full-time Freelance React JS developer's to work along side our product manager, UI/UX Designers, lead developer and UI engineers. We are building a powerful and gorgeous cloud-based Document Signing platform and our developers get to work on exciting and complex problems.
Our team is made up of wildly talented designers and developers with backgrounds working on products such as Active Campaign, Twitter, Atlassian, and Helpscout. Together we have been secretly crafting an absolutely inuitive, user-focused SaaS product (with personality, pizzazz, and plenty of unicorn shimmer) based off of 5+ years of user feedback from thousands of our customers. We will be launching in a 2-3 months, all we are missing is someone like you to jump on-board. If you are our developer, you'll learn a ton working with a creative, fun team who value your technical expertise.
Apply now and work remotely at ApproveMe
Apply
Jobs farther away