Front-end Jobs near
Boston, MA
Senior Software Engineer - Full Stack
Love dogs? This is the place for you!
**About us
**
Discover your dog more than fur deep with the most comprehensive DNA test on the market. Designed by world leaders in dog genetics, in partnership with Cornell University, the Embark DNA Test tells owners what breeds make up their pets, how to prevent future possible health problems, and what features and traits their pet might have. Help us end preventable disease in dogs and improve the lives of pets and their people through genomics.
Embark is the only dog DNA test using a research-grade DNA microarray, letting us give our customers the most accurate and comprehensive results on the market. More importantly, it allows us to do ongoing research into the genetics of dogs, which are a fantastic population for genetic discovery due to selective breeding over time. Our research focuses on mapping new traits and diseases, improving personalized veterinary medicine, and developing new breeding programs to eliminate preventable diseases in pets.
Interested in joining? We're looking for highly motivated and driven employees who will help us stay on the cutting edge of creativity and innovation in the fast-growing consumer genetics space.
The Role
We're looking for a Senior Full Stack Engineer with a proven track record of leading teams and shipping products.
The Opportunity
Peer with another Senior Engineer to manage our working processes and oversee all programming related development for the team.

Be a strong individual contributor, writing code to deliver features and leading the team by example.

Use your knowledge and experience to ensure the team is delivering clean, efficient, maintainable code, as well as thorough tests and documentation.

Identify possible risks/pitfalls in all areas of the project and provide practical alternatives/solutions.

Work closely with the Product team and collaborate with the broader company including the science and marketing teams.

Evaluate and mentor all members of the web engineering team.

Provide critical analysis of technology and development practices via retrospectives and other means, with the goal of continuous improvement of quality and team efficiency.

Maintain familiarity with advancements in web engineering technology and frameworks.

Guide and inspire the development team, promoting their morale and encouraging them to take pride and ownership in their work.

Be encouraged to bring your dog to the office regularly – we all want to meet him or her!
Requirements
Bachelor's degree in Computer Science (or related), or equivalent work experience.

5+ years of experience in web application development with a statically-typed language like C# or Java; and preferably, Typescript.

Strong knowledge of HTML and CSS for server-side rendered pages.

Experience architecting highly scalable web applications, e.g. trading off client-side vs. server-side rendering, monoliths vs micro-services, etc.

1+ years of experience developing with Node.js and, preferably, Express, including issues like deployment, maintenance, monitoring and optimizing Node in production.

Experience working with Typescript on Node at an advanced level.

Expertise in interacting directly with the database (PostgreSQL) using SQL.

Experience with DevOps using AWS or similar cloud platforms.

Strong programming skills and a proven ability to design and implement complex, large-scale systems.
What We Offer
Competitive salaries, all-inclusive health care, and equity participation

Startup perks with big-company benefits

A flexible vacation policy along with paid maternal and paternal leave

Dog-friendly office near South Station, Boston

Fully-stocked office snack bar and regular office events

Perks tailored for dog lovers including subsidized dog-walking services and paw-ternity leave

New iMacs and MacBook Pros

Continuing education including attending conferences
**
Embark Veterinary Inc. is an equal opportunity employer and values diversity at our company. We do not discriminate on the basis of race, religion, color, national origin, gender, sexual orientation, age, marital status, veteran status or disability status.**
Apply
Front-end React.js Javascript Developer, Redux, Redux-Saga - Immediate Contract (Remote)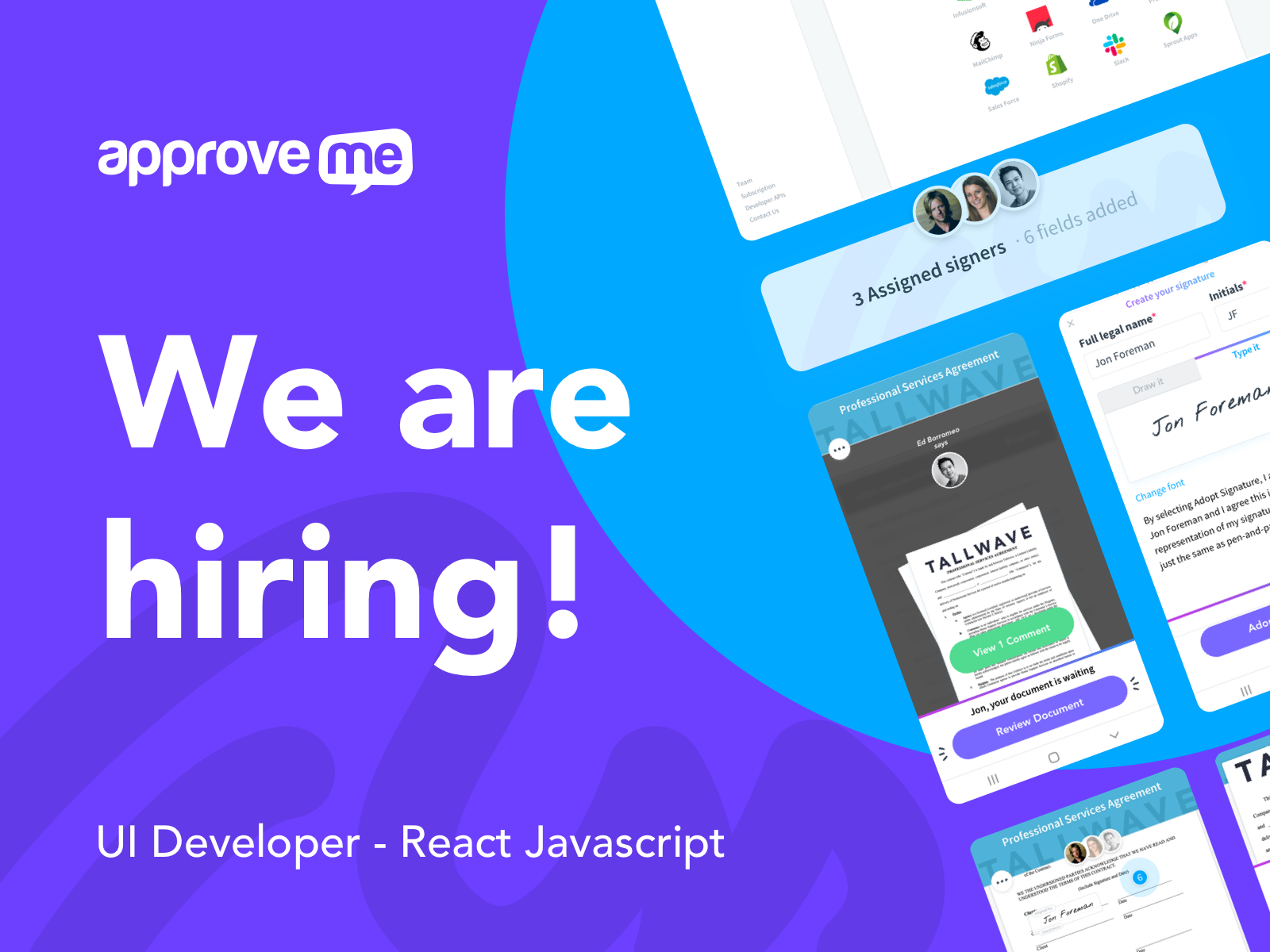 This is an opportunity that could change your portfolio forever.
ApproveMe is in immediate need of a two Full-time Freelance React JS developer's to work along side our product manager, UI/UX Designers, lead developer and UI engineers. We are building a powerful and gorgeous cloud-based Document Signing platform and our developers get to work on exciting and complex problems.
Our team is made up of wildly talented designers and developers with backgrounds working on products such as Active Campaign, Twitter, Atlassian, and Helpscout. Together we have been secretly crafting an absolutely inuitive, user-focused SaaS product (with personality, pizzazz, and plenty of unicorn shimmer) based off of 5+ years of user feedback from thousands of our customers. We will be launching in a 2-3 months, all we are missing is someone like you to jump on-board. If you are our developer, you'll learn a ton working with a creative, fun team who value your technical expertise.
Apply now and work remotely at ApproveMe
Apply
Backend Developer (Node.js)
We are UBIO and we automate the web.
We are looking for an optimistic and resilient engineer who has developed markedly complex services in Javascript or Typescript. You would have been involved with platforms and services that perform and scale well on the cloud and you also enjoy discussing complex engineering topics. We are a small Engineering team, relying on tools like GitHub and Slack to keep us communicating efficiently. We also rely on architectural principles and guidelines to ensure our colleagues can pick up our work in the future, if necessary.
Apply now and work remotely at UBIO
Apply
Chili Piper is seeking talented, motivated engineers to join our fully remote team building interactive data applications. As a part of growing front-end team, you will work with designers to constantly improving our users' experience. You will also collaborate with others throughout our organization and technology stack to build products that are revolutionizing the way our clients achieve their business goals.
On the front-end team, we feel strongly about developing solutions that are both technically and aesthetically sound. We invite you to bring your experience and perspective to conversations about the future growth of our applications and environment. We work closely together, with a healthy and non-combative review process aimed at improving code as well as developing each other's skills. In short, we strive to write solid, thoroughly tested, and readable code; and we are seeking a new contributor to our already highly effective team.
Apply now and work remotely at Chili Piper
Apply
Jobs farther away