Front-end Jobs near
Chicago, IL
Automotive Inventory Management Developer (React/Node)
This position can be remote; US based candidates only.
About You:
Looking for a unique work environment and culture to thrive in? Do you love the sense of accomplishment after shaping a new product and pushing code daily? Are you a motivated individual who works well independently, as well as on a team? Are you excited about developing modern applications on serverless cloud architecture? Then, we want you!
About Us:
Dealer Inspire (DI) is a leading disruptor in the automotive industry through our innovative culture, legendary service, and kick-ass website, technology, and marketing solutions. Our mission is to future-proof local dealerships by building the essential, mobile-first platform that makes automotive retail faster, easier, and smarter for both shoppers and dealers. Headquartered in Naperville, IL, our team of nearly 600 work friends are spread across the United States and Canada, pushing the boundaries and getting **** done every day, together.
DI offers an inclusive environment that celebrates collaboration and thinking differently to solve the challenges our clients face. Our shared success continues to lead to rapid growth and positive change, which opens up opportunities to advance your career to the next level by working with passionate, creative people across skill sets. If you want to be challenged, learn every day, and work as a team with some of the best in the industry, we want to meet you. Apply today.
Want to learn more about who we are? Check us out here!
About METAL:
METAL is DI's brand-new Automotive Inventory Management System (IMS), and is built with modern design, plus lightning-quick controls to help our clients move metal faster than the competition - without any training needed. Designed mobile and tablet-first, METAL allows car dealers to quickly and easily manipulate their vehicle inventory and have those changes appear on their Dealer Inspire website in real-time with API synchronization. From easy-to-implement pricing rules, to the ability to upload hi-res inventory pictures, METAL offers a full-suite of features that modernize inventory management.
Job Description
Your duties will primarily revolve around writing code, creating new features, modifying existing code to fix errors and bugs, and improving performance, while adhering to system testing and validation procedures.
To be successful in this role, you will need a high degree of personal responsibility with respect to quality, attention-to-detail, and the willingness to contribute and collaborate as part of a team.
Skills & Requirements
We're flexible with learning on the job and corresponding relevant work experience. However, for this position to be successful, we need you to know the following, with a strong self-initiative to learn from others!
Essential Responsibilities (including but not limited to):
Architecture and development of new features

Set and enforce code quality standards and test coverage

Leadership and mentoring of junior developers
Required:
Experience with front-end technologies such as React, Redux, and Webpack.

Experience working with NodeJS

Experience working with SQL or NoSQL databases; the ability to write efficient queries and benchmark/profile them

Mastery of JavaScript, HTML, and CSS/SASS/StyledComponents

Strong understanding of asynchronous programming

Experience with the Express framework in NodeJS

Experience with performance debugging and benchmarking

Experience with testing frameworks like karma, mocha, or jest

Experience with Git version control

Understanding of CI/CD

Strong attention to design detail (UI/UX)

Strong communication skills
Highly Desired:
Experience working remotely

Familiar with Mobile-First, responsive web design

Familiar with AWS Cloud Architecture and Serverless (Fargate, StepFunctions, Lambda, SQS)

Familiar with GraphQL, DataLoader, and Apollo Client

Familiar with MongoDB, Atlas, and Stitch

Familiar with PostgreSQL

Familiar with ElasticSearch
Compensation:
Compensation is based upon skill and previous experience. Motivated and talented individuals may advance quickly in our fast growing company.
Perks:
Health Insurance with BCBS, Delta Dental (Orthodontics coverage available), Eye Med Vision

401k plan with company match

Tuition Reimbursement

13 days paid time off, parental leave, and selected paid holidays

Life and Disability Insurance

Subsidized internet access for your home

Peer-to-Peer Bonus program
*Not a complete, detailed list. Benefits have terms and requirements before employees are eligible.
Apply
Senior Front-End Engineer
About The Opportunity
Here at Grubhub, we've been dedicated to giving diners the most convenient way to order food from their favorite restaurants (whether that's a late-night Chalupa from Taco Bell or a salad for lunch from a local restaurant the day after they enjoyed said late-night Chalupa).
While we are food-obsessed, we are also customer-obsessed. We look to constantly innovate our technology so our diners' food experience is memorable, restaurant owners get more business and individuals across the country looking for work can deliver the food from the restaurant to the diner flawlessly. We take great pride in knowing that we are a part of 20+ million diners food ordering experience and we are partnered with 125,000 restaurants in 2,400 US cities across our suite of apps (Grubhub, LevelUp, Seamless, Tapingo, AllMenus and MenuPages).
Want to be a part of the biggest movement in the US that is moving eating forward?
Our restaurant partners are the stars of the Grubhub platform – without them, we wouldn't have all the delicious food for our diners! On the restaurant team, we work with large national chains to hole-in-the-walls, and our aim is to help each of them grow their businesses by reaching more diners through our platform.
Our restaurants have a lot going on. They're doing everything from making food to marketing themselves and keeping the books. Our restaurant application is used by tens of thousands of restaurants all over the country to do those things and more. It's our business to understand their business, and we strive to fit into their workflows and provide an easy-to-use portal to interface with Grubhub.
Some Challenges You'll Tackle
As a Sr. Front-End engineer on the restaurant team, you will be working with product managers, designers, and other engineers to figure out what needs to be done to build a feature, plan it out, and then execute – sometimes individually, sometimes leading a small group of other front-end engineers. This role will be a lot of heads-down development, but it also requires good communication with others, wise translation of product requirements into features, and sometimes directing the work of others.
You Should Have
5+ years experience building highly-scalable interactive web applications

Expert knowledge of JavaScript, HTML5, and CSS3

Demonstrated ability to use a modern web framework or library such as React, Angular, or Vue (experience using React + Redux is a plus)

The pattern of designing scalable and reusable components and features

Experience working in a test-driven development environment

Track record of advocating for the adoption of strong software architecture, development best practices, and new technologies

Experience being self-directed and responsible for deliverables

Familiar with Agile methodologie
And Of Course, Perks!
PTO. It's true, we provide you a generous amount of time to recharge.

Better Benefits. Get quality insurance, flex-spending accounts, retirement options and commuter perks.

**Free Food. **Kitchens are stocked and free Grubhub each week.

**Stock Up. **All of our employees are owners, in fact, they're granted Restricted Stock Units, which means we're all in it to win it.

Casual Culture. Catch rays on the rooftop or get comfy on a couch and get to know your coworkers — because work, should be a place you want to be.
Grubhub is an equal opportunity employer. We evaluate qualified applicants without regard to race, color, religion, sex, sexual orientation, gender identity, national origin, disability, veteran status, and other legally protected characteristics. The EEO is the Law poster is available here: DOL Poster. If you are applying for a job in the U.S. and need a reasonable accommodation for any part of the employment process, please send an e-mail to talentacquisitio**n**@grubhub.com and let us know the nature of your request and contact information. Please note that only those inquiries concerning a request for reasonable accommodation will be responded to from this e-mail address.
Apply
Precise Solutions is an Illinois BEP/FBE (female owned business enterprise) certified consulting company founded in 2000. Our mission is to provide companies with specialized resources that can drive their system portfolio projects using program management processes, change management and blended learning solutions. Please visit our website at www.precise-solutions.com
At Precise Solutions, we are looking for top talent consultants to bring on as employees of our organization and service our clients in the pharmaceutical and healthcare industries primarily located in the Northern Chicago Suburbs. We are much more than a consulting firm! Precise Solutions provides competitive compensation packages with great salaries, benefits, health insurance, paid time off and 401k. We currently have an immediate need for the following:
Job Title: Angular Developer
Client: Pharmaceutical, TBA
Business Unit: Corporate-Information Technology (HQIT)
Location: Chicago Loop
Pay Rate: $50- $55 pr. Hr. plus health, dental, vision insurance, 401k and PTO
Generic Developer Description
Codes software applications to adhere to designs supporting internal business requirements or external customers.

Standardizes the quality assurance procedure for software.

Oversees testing and develops fixes.

May require a bachelor's degree in a related area and at least 8 years of experience in the field or in a related area.

Has knowledge of standard concepts, practices, and procedures within a particular field.

Generally supports commodity or generic/unspecified skills, such as .Net, Sharepoint, Oracle, Cognos, Application Support, HTML, Informatica, JAVA, Oracle, Lavastrom, Unix/Linux Shell Scripting, SQL, PL/AQL, UI Developer, and Web Developer.

Relies on experience and judgment to plan and accomplish goals.

Performs a variety of tasks.

May lead and direct the work of others.

A wide degree of creativity and latitude required.
Hiring Manager Notes:
1) What hours and days will this person be working? 5 days| 8hrs
2) What are the top 5 skills/requirements this person is required have?
**Required Skill 1: Angular 2+ **
**b. Required Skill 2: React (Substitute for Angular 2+) **
**c. Required Skill 3: Html **
**d. Required Skill 4: CSS or SCSS **
**e. Required Skill 5: Experience with NGRX or Redux (Nice to have) **
3) What years of experience, education, and/or certification is required? 2+
4) What is a nice to have (but not required) regarding skills, requirements, experience, education, or certification? NodeJS, Design Skills, Previous enterprise/SaaS front end experience, experience with React Native/mobile
5) What is the environment that this person will be working in (i.e. group setting vs individual role)? Working on a number of projects in a group/paired setting
6) Does this position offer the ability to work remotely on a regular basis or is it an on-site role? If remote opportunity exists, what are the options (i.e. 1 day remote, 4 days on-site)? Ability to work downtown Chicago, remote 1-2 days per week.
Apply
Lead Software Engineer Front End
Kalderos delivers technology that solves the challenges facing the US healthcare system. At Kalderos, we develop technology solutions with a focus on simplifying the complex coordination of drug discount programs from exhaustive data services to intelligent reporting to issue resolution.
Job Responsibilities
Work with a team of outstanding developers to implement and continuously improve enterprise software solutions that are high-performance and that their users love.

Assist the IT leadership team in planning for and acting on requirements for constant growth and expansion of Kalderos' technology environment.

Quickly gain expertise with Kalderos' existing environment and business models and provide input on how to continually enhance both.

Adhere to and promote exacting software development and quality standards.

Continually educate yourself and extend both the depth and breadth of your technical and interpersonal skillsets.
Required Experience and Qualifications
Bachelor's degree in a computer-science or related technical field

3+ years experience as a professional software engineer

Expertise with front-end (SPA) development (React/Redux preferred)

Experience working in a mature CI/CD development environment

Ambition, initiative and desire to learn new things and seek new responsibilities

Strong organization skills and ability to manage multiple concurrent tasks and assignments

Excellent collaboration skills when working with internal staff and customers

The desire to solve tough problems

Ability to thrive and deliver results in an ambiguous environment
Apply
Senior Front-End Engineer- Delivery
We're Grubhub, the nation's leading online and mobile food ordering company. Since 2004 we've been connecting hungry diners to the local restaurants they love. We're moving eating forward with no signs of slowing down.
With more than 95,000 restaurants and over 14 million diners across 1,700 U.S. cities and London, we're delivering like never before. Incredible tech is our bread and butter, but amazing people are our secret ingredient. Rigorously analytical and customer-obsessed, our employees develop the fresh ideas and brilliant programs that keep our brands going and growing.
Long story short, keeping our people happy, challenged and well-fed is priority one. Interested? Let's talk. We're eager to show you what we bring to the table.
Our Delivery Team is seeking a Senior Front-End Engineer to join our team. This set of teams are at the core of our delivery logistics platform and are responsible for our critically important food delivery business. You will conceptualize, design, build and deploy new and innovative products for our restaurant partners enabling self-management and onboarding of all existing and future partners. We have high standards for code quality, unit testing, and intelligent architecture.
Some Challenges You'll Tackle
Design, implement and deliver technology platforms and products.

Understand our products from both a technical and business perspective in the context of our larger business.

Create working software based on an understanding of business and technical priorities.
Communicate effectively with leadership, product owners, other technologists, and users.

Break down complex problems into elegant technical solutions to solve problems for diners, corporate accounts, and internal stakeholders.

Actively contribute to the adoption of strong software architecture, development best practices, and new technologies.
You Should Have
Bachelor's Degree in Science, Programming or Engineering related field

5+ years of professional experience building highly-scalable, interactive web applications (e-commerce or logistics preferred)

Experience using modern JavaScript frameworks, React / Redux is preferred

Experience using modern Javascript build and packaging systems

Demonstrated ability in writing object-oriented Javascript

Experience working with and writing thoroughly tested code

Experience mentoring/coaching engineers and coordinating with developers from other teams or 3rd party vendors

Ability to work creatively and analytically in a problem-solving environment

Familiar with Agile software development methodologies
Apply
Frontend Developer - React / Redux
new
IDEX is a Software as a Service (SaaS) startup on a mission to shatter the myth that China can't innovate. We believe strongly in the innovative potential of employees all across China, and are committed to empowering their creative potential with our innovation management software. We provide our software to companies with 200 or more employees, allowing every employee to freely express their ideas and use them to benefit the employees themselves, their customers, and business.
We are a small, committed team that is rapidly growing. Our co-founders are two successful entrepreneurs who have established multi-million dollar businesses in markets across the globe. If you share our vision and want to be part of transforming force for China's innovation scene, come and join us!
You will be responsible for turning UI/UX designs to actual code that will produce visual elements of our Idea Management Software that our users can interact with. You will work closely with both our designers and with our backend developers.
Apply now and work remotely at IDEX Innovation
Apply
Job type: Permanent
Experience level: Senior
Role: Senior React Developer Location:
Location: United Kingdom - Remote
Industry: Agile Software Development
Company size: 1-10 People (growing)
Passionate about web development? Have plenty of experience working in React and JavaScript with a proven track record delivering large scale systems? Looking for a challenging role to help architect, design and build a cutting-edge React application?
We need an ambitious, motivated and talented developer to join our team building the next generation of software aimed at the not-for-profit sector.
We are a n3o - A UK based startup with a distributed development team.
What we're looking for:
We are looking for a React JS developer to work alongside the backend team on our CRM system. You will be working as part of a globally distributed team so this role is open to candidates based anywhere in the UK. This takes a high level of motivation and the ability to self-manage. This role requires excellent written and verbal English communication skills and the ability to communicate professionally with both technical and non-technical people.
The role is unique in that not only will you be working with exciting technology and a talented & enthusiastic team, you have the chance to be part of something truly worthwhile developing software that helps not-for-profits do more to help some of the most vulnerable people in the world. We want you to be as excited about this prospect as the rest of the team are!
Salary: £40,000 - £50,000
Perks: Working hours: Flexible. Friendly team and value-led organisation, generous training allowance, 22 days holiday & regular staff meet-ups
Apply now and work remotely at n3o Ltd
Apply
Front-end React.js Javascript Developer, Redux, Redux-Saga - Immediate Contract (Remote)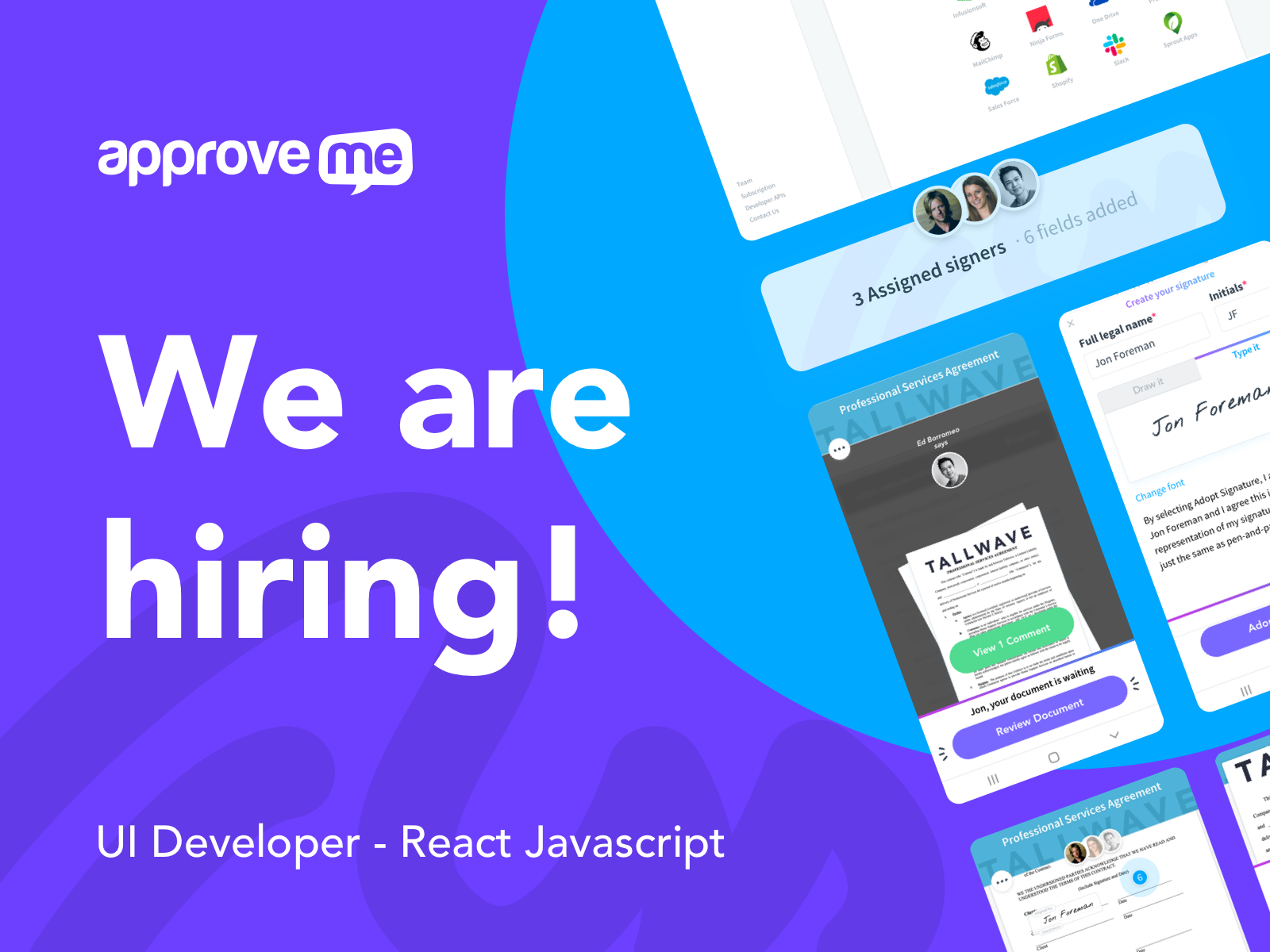 This is an opportunity that could change your portfolio forever.
ApproveMe is in immediate need of a two Full-time Freelance React JS developer's to work along side our product manager, UI/UX Designers, lead developer and UI engineers. We are building a powerful and gorgeous cloud-based Document Signing platform and our developers get to work on exciting and complex problems.
Our team is made up of wildly talented designers and developers with backgrounds working on products such as Active Campaign, Twitter, Atlassian, and Helpscout. Together we have been secretly crafting an absolutely inuitive, user-focused SaaS product (with personality, pizzazz, and plenty of unicorn shimmer) based off of 5+ years of user feedback from thousands of our customers. We will be launching in a 2-3 months, all we are missing is someone like you to jump on-board. If you are our developer, you'll learn a ton working with a creative, fun team who value your technical expertise.
Apply now and work remotely at ApproveMe
Apply
Jobs farther away