Front-end Jobs near
New York, NY
Senior Full Stack Web Developer
MUST BE LOCAL TO NYC REGION
Senior web developer experienced at developing enterprise applications in an extreme/agile programming environment, working directly with Equities analysts and business management. You should have relevant financial markets experience and database experience enough to meet the demand of the current role. We are looking for strong full stack background with ability to architect solutions, challenge status-quo and be a great business partner
You will be the primary owner of the team's web toolkit, which provides the most critical aspects of the analysts' daily tasks. You will also share responsibility for the daily processes involved in the business workflow, as well as the underlying data.
Scope:
Develop new tools/modify existing analyst tools in an agile/extreme development environment, working directly with the business

Complete the migration of the current AngularJS code to React

Help drive the technical strategy based on React, TypeScript, Node.js, and SQL Server

Support the morning trading window to ensure all analyst actions are properly committed for trading

Occasionally develop tools for the rest of the firm using Angular 2+
Requirements:
We are looking for a senior full-stack/web developer with financial industry experience to develop tools and support the Equities business.
At least a BS in computer science or similar applicable education.

Must be very strong in JavaScript, HTML, Node.js, CSS, and Chrome

Must have extensive experience with a traditional Object Oriented language such as C++, C#, or Java

Must be comfortable with SQL Server

Very useful skills include React, TypeScript, Angular, Webpack

Should be comfortable with Equity trading and research concepts, such as prices, corporate events, earnings cycles, and the various types of returns.

Must have a very strong user-oriented mentality, with the understanding that business priorities always come first.

Must have a very strong self-motivated work ethic with a passion to deliver value to the business while at the same time adhering the highest standards of quality.

5-10 years enterprise development experience in the financial industry

_Must demonstrate a c_ommitment to the highest ethical standards
Apply
Paxful is a leading peer-to-peer powered bitcoin marketplace and a universal money translator. Our mission is social justice through financial freedom worldwide. By offering a platform with over 300 financial networks that empowers both merchants and buyers alike, we have created opportunities for millions across the globe who don't have access to traditional banking services.
Paxful was founded in 2015 and has an established headquarters in New York, with offices in Estonia, Hong Kong, the Philippines and Johannesburg. Currently, we have over 200 dedicated employees globally and are growing rapidly. We have millions of users, a strong business model, and are completely bootstrapped. One of our pillars is giving back to the communities we help through initiatives such as #BuiltWithBitcoin. You'll be joining an international team that seeks to make real, sustainable change in the world.
Paxful teams tend to have:
**An open mind: **We believe that change and new ideas are exciting, not threatening.

**A proactive attitude: **We're willing and ready to roll up our sleeves and take responsibility.

Accountability: As colleagues, we take care of each other and our work.

**Self-direction: **We figure out solutions on our own and take charge of carrying them out.

**An adaptive mindset: **We shift our processes, perspectives, and working styles along with the environment.

Passion: We feel driven by being part of the mission.
Sound like a fit?
We are looking for a Front-end Developer who will write efficient, testable, and reusable code using React, Redux, and Typescript. Working with the Product team in the New York office, you'll be using your awesome software development skills to ensure the creation of new functionality and have an impact on the front-end architecture on one of the largest peer-to-peer bitcoin exchange services. Responsibilities include creation of new features using the most advanced technologies and a functional approach. Ultimately, you will help to change the global FinTech system for the better.
What you will do:
Write efficient, testable, and reusable code

Solve complex performance problems and architectural challenges

Work closely with our developers and product owners in an agile team

Help to troubleshoot, test, and maintain the product

Follow company coding standards

Perform code reviews and mentor your peers

Cover your code with tests
What you'll bring to this role:
3+ years of relevant software development experience

Strong TypeScript skills

Good knowledge of state management libraries

Experience with frameworks such as React

Experience with state management libraries such as Redux

Experience with Functional programming techniques

Experience with working in a team setting

Must be able to physically work in our New York Office (this is not a remote role)
Ideally, you'll also have:
Bachelor's degree in computer science or related field

Experience with statically typed programming languages

Experience with PHP

Ready to work in the fast-growing environment

Experience or interest in cryptocurrency, blockchain and/or financial technology
Perks:
Healthcare insurance, including dental and vision

Catered lunch and dinner daily, with premium snacks

Gym membership of your choice and personal training sessions

Sports nutrition and supplements, massages and chiropractor sessions

Training and professional development resources

Paid company events and retreats

Generous paid time off

Paid maternity/paternity leave including a one-time bonus to support newborn

Commuter benefits

401(k) with company matching

Accessible office in the West Village

Flexible hours
Apply
AdHawk is looking for a Full Stack Engineer with a solid range of engineering experience. At AdHawk, you'll join a distributed engineering team that's guiding consumers through one of the most difficult decisions they'll make during the home buying process, as well as building applications used to manage hundreds of small businesses nationwide.
Requirements
2+ years of experience building user-friendly web applications

Experience with Rails, React

A philosophy that quality code and test coverage allows a team to move faster

Take an active role in your professional development by serving both as a mentor and mentee on the Engineering team
Nice to Haves
Experience working in a high growth startup environment

Solid product sense

Familiarity with TypeScript, GraphQL, Apollo

Previous success working as a member of a remote team

Experience with or curiousity about Hanami (Ruby framework)
Apply
Full Stack Software Engineer in Real Estate Tech
Role and Responsibilities Exciting opportunity to join a new, venture-funded business at the ground floor and play an instrumental role in making the home selling experience easier for our Texas customers. If you want to play a key role in scaling in a new, innovative business this is the right role for you.
The ideal candidate will have 3-5+ years of experience creating, updating and maintaining web applications and/or backend services.
In this role you will:
Build and continuously deploy both internal tools and consumer facing products.

Maintain a continuously tested, scalable, and applications and services across all sites. A well written, clean, testable code base which allows for moving quickly while delivering quality.

Play an active role in hiring and mentoring other engineers.

Work with business stakeholders to design and architect solutions to our business problems.
Professional Qualifications
Our services are written in Python and our web applications are in Javascript/Angular. Experience with one or both of those, or similar languages is required.

Working knowledge of building web applications using single page technologies and service oriented architecture.

Familiarity with AWS, Postgres, SQL, Airflow, Docker, CircleCI, Karma, Hugo a plus.

Experience working with a team to plan, prioritize, build, and deploy code regularly using CI/CD tools.

Willingness to roll up your sleeves

Strong problem solving skills

Real estate domain experience is a plus

3-5+ years experience in software engineering

BS or MS in Computer Science preferred but not required
Personal Qualifications
Results orientation with a high motor and an incredible attention to detail; able to drive projects from planning to completion with limited oversight

Demonstrated communication and interpersonal skills to work across diverse stakeholders and cross-functional teams

A low ego and can-do attitude; willingness to admit mistakes and work to remedy them

Flexibility to prioritize deliverables and re-prioritize them at a moment's notice

Comfort operating in an ambiguous environment where there's not a set playbook on how to solve each problem
Apply
Sr. Full-Stack Developer (Node, Vue, TypeScript, Python, SQL, Elastic) - Fully Remote Startup
new
Build your career as part of a growing startup!
Join Specula as our first Sr. FullStack #RemoteDeveloper, be part of building a great team & product!
We are a self-funded startup (towards round-A), developing the next-gen of APM/IT Monitoring with already 10+ paying enterprises.
We're starting to scale globally and looking for top-global talent to join our team, just like you!!
Our environment consists of Node.js, Vue.js, Python, and some Java. We need you to be great at everything :) but backend is where we need you to excel most…
We are looking for someone who's super excited about joining an environment of a fast-paced remote startup. To be a great remote-developer, you need to be able to act autonomously while taking full ownership over your deliverables and master async-communication.
Being a small team, we all wear many hats, this is a great opportunity to grow and play a significant role.
The salary for this position is $55,000 annually.
Apply now and work remotely at Specula.io
Apply
Front-end React.js Javascript Developer, Redux, Redux-Saga - Immediate Contract (Remote)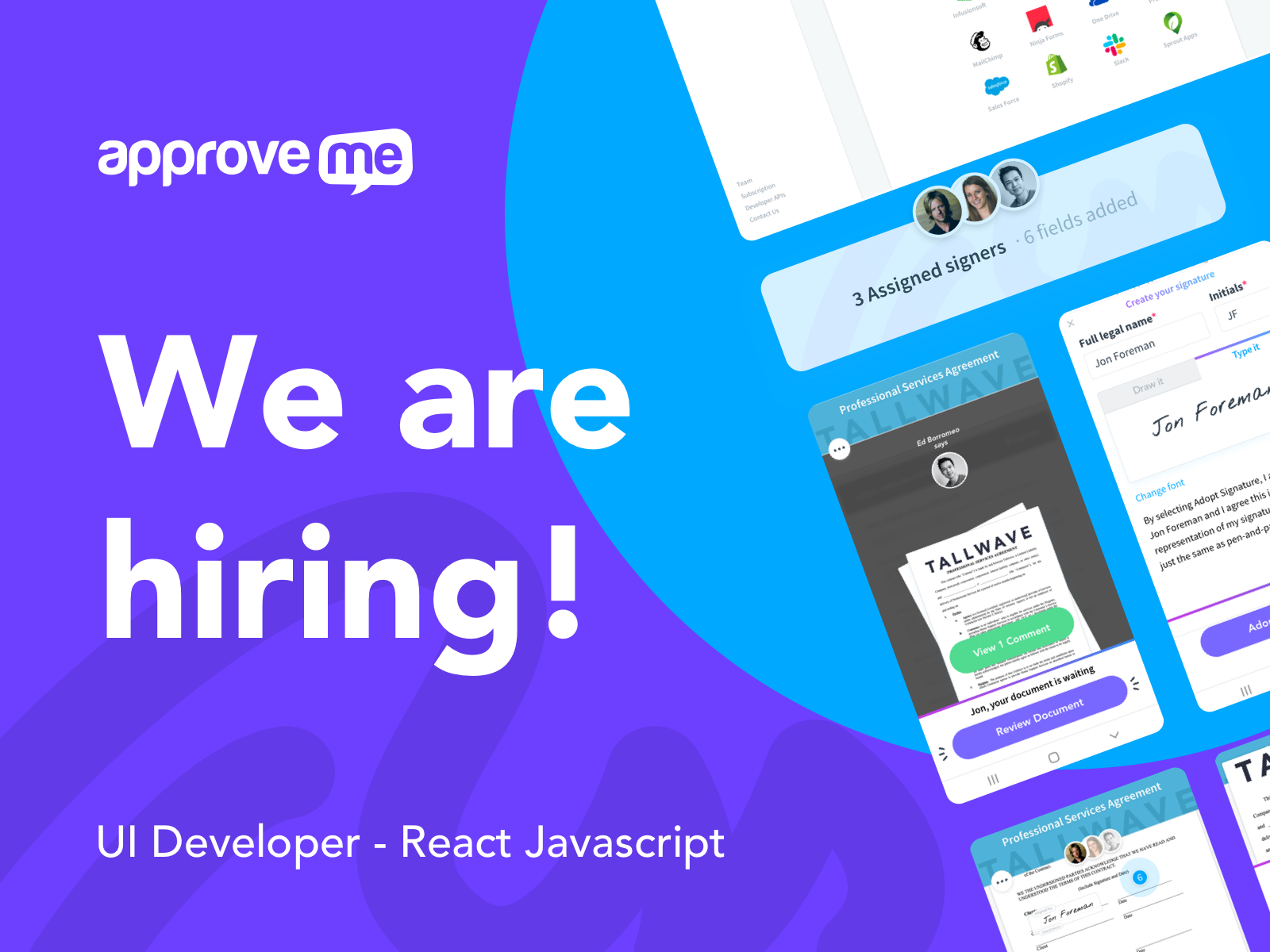 This is an opportunity that could change your portfolio forever.
ApproveMe is in immediate need of a two Full-time Freelance React JS developer's to work along side our product manager, UI/UX Designers, lead developer and UI engineers. We are building a powerful and gorgeous cloud-based Document Signing platform and our developers get to work on exciting and complex problems.
Our team is made up of wildly talented designers and developers with backgrounds working on products such as Active Campaign, Twitter, Atlassian, and Helpscout. Together we have been secretly crafting an absolutely inuitive, user-focused SaaS product (with personality, pizzazz, and plenty of unicorn shimmer) based off of 5+ years of user feedback from thousands of our customers. We will be launching in a 2-3 months, all we are missing is someone like you to jump on-board. If you are our developer, you'll learn a ton working with a creative, fun team who value your technical expertise.
Apply now and work remotely at ApproveMe
Apply
Backend Developer (Node.js)
We are UBIO and we automate the web.
We are looking for an optimistic and resilient engineer who has developed markedly complex services in Javascript or Typescript. You would have been involved with platforms and services that perform and scale well on the cloud and you also enjoy discussing complex engineering topics. We are a small Engineering team, relying on tools like GitHub and Slack to keep us communicating efficiently. We also rely on architectural principles and guidelines to ensure our colleagues can pick up our work in the future, if necessary.
Apply now and work remotely at UBIO
Apply
Jobs farther away