Front-end Jobs near
Portland, OR
Sorry, no listings for this city at the moment.
Front-end React.js Javascript Developer, Redux, Redux-Saga - Immediate Contract (Remote)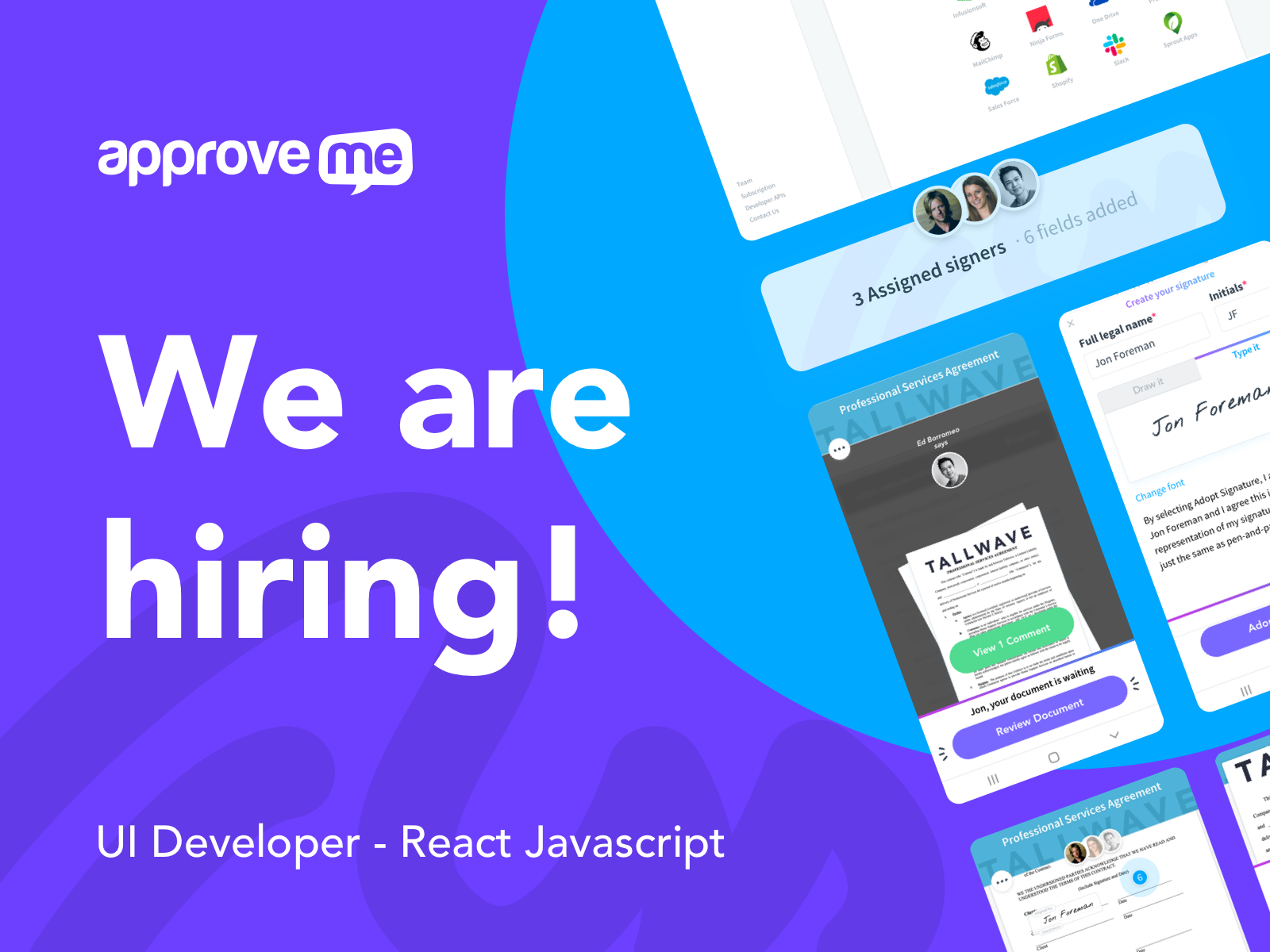 This is an opportunity that could change your portfolio forever.
ApproveMe is in immediate need of a two Full-time Freelance React JS developer's to work along side our product manager, UI/UX Designers, lead developer and UI engineers. We are building a powerful and gorgeous cloud-based Document Signing platform and our developers get to work on exciting and complex problems.
Our team is made up of wildly talented designers and developers with backgrounds working on products such as Active Campaign, Twitter, Atlassian, and Helpscout. Together we have been secretly crafting an absolutely inuitive, user-focused SaaS product (with personality, pizzazz, and plenty of unicorn shimmer) based off of 5+ years of user feedback from thousands of our customers. We will be launching in a 2-3 months, all we are missing is someone like you to jump on-board. If you are our developer, you'll learn a ton working with a creative, fun team who value your technical expertise.
Apply now and work remotely at ApproveMe
Apply
Global volunteer community bringing communities together build projects targeting all societal issues. Meteor Reactjs
Traditional social media was becoming an ever more 'pay to play' environment, so we dropped it and began building our own platform, designed to allow the vision to massively scale and increase the well-being created. We're now planning to launch a new platform for all the many projects working to create societal good in ways which aren't rewarded in today's economic system, most of which are struggling as they don't have the money to attract attention via social media due to this change.
Apply now and work remotely at Focallocal - The Public Happiness Movement
Apply
Jobs farther away
About Codal
Codal is a UX design and development agency with a focus on blending an Agile process with the latest technologies. Our clientele has ranged from small business to the Fortune 100, but our philosophy has always remained the same: to empower brand visibility and deliver the most elegant web and mobile solutions possible.
Roles & Responsibilities
Codal is searching for an experienced React Native developer, a software engineer who specializes in the mobile app framework.
Build pixel-perfect, buttery smooth UIs across both mobile platforms.
Leverage native APIs for deep integrations with both platforms.
Diagnose and fix bugs and performance bottlenecks for performance that feels native.
Reach out to the open source community to encourage and help implement mission-critical software fixes-React Native moves fast and often breaks things.
Maintain code and write automated tests to ensure the product is of the highest quality.
Transition existing React web apps to React Native.
Requirements / Must Haves
Education: Bachelor's Degree in IT, Computer Science, Computer Programming, or a similar field
4+ years of experience developing within the React Native framework
4+ years of experience in front-end technologies including, but not limited to, JavaScript, AJAX, HTML, CSS, SASS, XML
Passionate care of troubleshooting & debugging skills
Interest in staying current and applying the most current best practices
Able to work effectively in a fluid, fast-paced environment
Disciplined approach to testing and quality assurance
Why Work For Codal
As a Codal employee, you're a member of a dedicated & driven organization, composed of industry visionaries and auteurs. We take the utmost pride in our work and are truly passionate about the services we provide. As a world-class agency, we offer all of the benefits of an enterprise company, in a friendlier, tight-knit office community.
Apply
React Angular Software Engineer
MakeMydeal, a new Cox Automotive company, specializes in creating the absolute best online communication experience for automotive car purchases today. This is an exciting time for our business as we have developed a leading eCommerce solution that helps automotive consumers connect with car dealerships to agree on the terms of their deal online before visiting the dealership.
The React Angular Software Engineer should be a full stack Javascript engineer who is deeply technical and works very well in an agile, dynamic, team oriented environment. This individual must be eager and capable of learning new skills and technology, and be motivated to work in a fast paced atmosphere where wearing multiple hats is encouraged. This position will report to the Sr Delivery Manager of the core product.
Technology We Use:
JavaScript, React, Redux, Node, Angular, Seneca, Mongo, HTML, CSS
Your Role:
Develop new or maintain existing programs based on specifications

Develop, implement and maintain unit tests of programs

Actively participate in agile team activities

Participate in functional test planning and testing for the assigned applications, functional areas or projects

Participate in problem solving and troubleshooting for the assigned applications, functional areas or projects

Share knowledge by effectively documenting work

Stay current with changes in the technical area of expertise

Develop and maintain a thorough knowledge of the assigned applications, functional areas or projects

Actively support MakeMyDeal products across web and mobile platforms
Apply
Bioinformatics Software Engineer - Full Stack
Are you passionate about collaborating with a team of clinicians and scientists at Memorial Sloan Kettering Cancer Center?
Then join us here at MSK, where we can provide you with the opportunity to make a difference with your career. We believe that this is an exciting role for someone who has the right background to be apart of our dynamic team and who wants to apply their skills to support our mission here.
The Center for Molecular Oncology (CMO) is searching for a talented self-driven Bioinformatics Software Engineer to build full stack components for various systems to enable and expedite the analysis of circulating tumor DNA sequencing data.
The CMO promotes precision oncology through genomic analysis to guide the diagnosis and treatment of cancer patients. We bring together clinicians and scientists throughout Memorial Sloan Kettering Cancer Center to conduct large-scale translational research involving molecular characterization of patient tumor specimens in order to identify correlations between genomic features and clinical outcomes.
Working in a team, under the supervision of the group leader, you will provide support to clinical and translational research projects in the CMO utilizing MSK-ACCESS. The Bioinformatics Software Engineer will develop software to support leading-edge, large scale research efforts in the CMO including genomics, transcriptomics, and clinical data analysis and interpretation. Motivated by contributing meaningfully to present progress in cancer research driven by advances in computing and data, we are seeking a hardworking, highly skilled engineer with experience developing robust, enterprise-level contemporary software systems.
You Will:
Work and collaborate with a top-notch team of researchers, software engineers and clinicians to build a platform for streamlining and automating genomic data analysis.

Implement and follow the standard methodologies in software development, code versioning, software testing and deployment and assists in unit/functional regression, and system testing.

Take part in technical discussion including but not limited to code reviews, product design, and build/release management.

Process and analyze data from high-throughput next-generation sequencing.

Provide consultation and guidance to research scientists, as well as other bioinformatics and software engineers, at the Center.
You Are:
Capable of building strong customer relationships and delivering customer-centric solutions.

A good decision-maker, with proven success at making timely decisions that keep the organization moving forward.

Able to manage many tasks and projects at once.

Able to work effectively in an environment notable for complex information, consistently achieving results, even under tough circumstances.

Resilient in recovering from setbacks and skilled at finding detours around obstacles.

Adept at learning quickly, applying insights from past efforts to new situations.

Committed to applying computing and data analysis for clinical benefit.
You Need:
Bachelor's Degree with 4-6 years of programming OR Master's Degree with 2-4 years of experience.

Experience with back-end programming languages, especially Python/Java/Scala.

Experience with web frameworks like Flask, Django, or Spring.

Experience with SQL/NoSQL databases like MySQL or MongoDB.

Experience with JavaScript, React.

Experience with UI design.

Experience with Agile software development and participating in a Scrum team.
Bonus:
Knowledge of sequencing data.

Experience with containers, especially Docker.

Experience with cloud computing, especially AWS.

Familiarity with high performance computing clusters like LSF or SGE.
Apply
TradeBlock is a venture-backed company servicing financial firms with: crypto currency trading technology, institutional-grade market data, as well as blockchain data and analytics. We are a technology company focused on building the foundation for the future of finance, using the most advanced blockchain and crypto currency infrastructure.
We are looking for candidates excited to shape this future by contributing to the crypto and blockchain industries through an industry-leading firm. This full-time role offers a competitive base salary, benefits, and a dynamic work environment.
TradeBlock provides an advanced electronic trading platform for crypto currencies that is used by some of the industrys largest participants. It includes over 30 pages with real-time charts, quoting and trade confirmation management, advanced exchange routing and execution, reporting and various middle- and back-office tools. TradeBlock also hosts a number of publicly accessible tools to support the digital currency and public blockchain industry. Developers should be comfortable with a single page app built in React with served through Django.
Benefits
Competitive salary
Health, dental and vision insurance
Team lunches, snacks, coffee and refreshments bar
Robust work stations
Strong engineering culture
Apply