Front-end Jobs near
Portland, OR
Senior Front-end Software Developer - React / Redux
NAVIS is looking for a creative, motivated, experienced Sr. Front-end Software Developer to join us as a critical member of our Engineering Team._ This position can be located either at our headquarters offices in Bend, Oregon, or at our new, shared office space situated in the heart of downtown Portland._
This senior-level front-end Software Developer will design, develop, optimize, and test on premise, AWS hosted applications and micro-services in an Agile setting. As part of the Engineering Team, you will collaborate closely with Software Development teams and Product Team members to design exceptional software / product solutions to meet customer needs.
Your focus will be on the front-end using various modern Javascript technologies such as React and Redux.
TECHNOLOGY STACK:
Our tech stack is as follows: Java, React/Redux, Postgres, Microservices, Containers, Python, Spark, CI/CD, IaC, AWS
Click here for a peek inside our Engineering Team
RESPONSIBILITIES:
The primary focus of this position is coding creative, operational, front-end software that enhances our products. The Engineering Team has multiple projects that often start at the concept stage and develops new products and/or product features from scratch. Our products are constantly evolving with our client needs – we are not simply maintaining existing products.
This is a full SDLC development position. The Front-end Software Developer must be willing to take on all aspects of the development process, and be ready to support applications in production environments. He/she will be asked to test code sets, document software, and implement products and related solutions. We are currently on a release cycle and are striving towards a continuous development environment.
The Front-end Software Developer will be tasked with analyzing, identifying, and solving highly-complex issues related to software development and related technologies. As needed, this person may be involved in the mentoring of more junior-level developers on the technical aspects of our products, technology, and related software tools. This developer needs to have a willingness to do whatever it takes to make the products and the company successful.
A high degree of creativity and motivation is required of the successful candidate, who is expected to operate with limited direct supervision.
QUALIFICATIONS:
We require strong development skills in React.js with Redux front-end software development

BS in Computer Science, or equivalent experience

At least five (5) years of front-end software analysis, design, and development experience on highly-scalable web properties supporting multiple browsers

Scrum experience, knowledge, and acceptance

You must have a strong belief in writing tests for your own code – we currently write unit tests, and are creating a framework to include feature testing and integration testing

Strong experience with Design Patterns

Solid understanding of the SDLC

Experience with iterative development with quick release cycles (Agile Methodologies)

Experience with any modern testing practices (experience with TDD, BDD, and/or UI / API / Component test automation is beneficial)

Experience working with peers and Software Architects on highly complex technical issues

If working remotely, you should be able to travel occasionally to our Bend office (about 2-3 days per month is anticipated and this is expensed to NAVIS)
In addition to the above requirements, the following technical experience is considered advantageous, but is not required:
Java back-end development experience

CI / CD experience with Chef

Open ID experience

Git experience

Docker

VOIP

Experience with internationalization

POSITION LOCATION:

PORTLAND: Located in the heart of downtown Portland near Pioneer Square, our office on the 11th floor at 811 SW 6th Avenue is nestled between a farmer's market and several of Portland's hot spots. Our work space offers a birds-eye view of the city, along with best-in-class services and amenities. __We are open to 4 days per week in the office, with 1 day per week flexibility to work remotely. __If working in the Portland office, you should be able to travel occasionally to our Bend office (about 2-3 days per month is anticipated and this is expensed to NAVIS)

BEND: The position can be based at our headquarters offices in Bend, Oregon (relocation assistance package available)
NAVIS OFFERS:
An inclusive, fun, values-driven company culture – we've won awards for it

A growing tech company in Bend, Oregon

Work / Life balance - what a concept!

Excellent benefits package with a Medical Expense Reimbursement Program that helps keep our medical deductibles LOW for our Team Members

401(k) with generous matching component

Generous time off plus a VTO day to use working at your favorite charity

Competitive pay + annual bonus program

FREE TURKEYS (or pies) for every Team Member for Thanksgiving (hey, don't laugh - it's a tradition around here)

Your work makes a difference here, and we make a huge impact to our clients' profits

Transparency – regular All-Team meetings, so you can stay in-the-know with what's going on in all areas our business
Apply
Frontend Developer - React / Redux
new
IDEX is a Software as a Service (SaaS) startup on a mission to shatter the myth that China can't innovate. We believe strongly in the innovative potential of employees all across China, and are committed to empowering their creative potential with our innovation management software. We provide our software to companies with 200 or more employees, allowing every employee to freely express their ideas and use them to benefit the employees themselves, their customers, and business.
We are a small, committed team that is rapidly growing. Our co-founders are two successful entrepreneurs who have established multi-million dollar businesses in markets across the globe. If you share our vision and want to be part of transforming force for China's innovation scene, come and join us!
You will be responsible for turning UI/UX designs to actual code that will produce visual elements of our Idea Management Software that our users can interact with. You will work closely with both our designers and with our backend developers.
Apply now and work remotely at IDEX Innovation
Apply
Job type: Permanent
Experience level: Senior
Role: Senior React Developer Location:
Location: United Kingdom - Remote
Industry: Agile Software Development
Company size: 1-10 People (growing)
Passionate about web development? Have plenty of experience working in React and JavaScript with a proven track record delivering large scale systems? Looking for a challenging role to help architect, design and build a cutting-edge React application?
We need an ambitious, motivated and talented developer to join our team building the next generation of software aimed at the not-for-profit sector.
We are a n3o - A UK based startup with a distributed development team.
What we're looking for:
We are looking for a React JS developer to work alongside the backend team on our CRM system. You will be working as part of a globally distributed team so this role is open to candidates based anywhere in the UK. This takes a high level of motivation and the ability to self-manage. This role requires excellent written and verbal English communication skills and the ability to communicate professionally with both technical and non-technical people.
The role is unique in that not only will you be working with exciting technology and a talented & enthusiastic team, you have the chance to be part of something truly worthwhile developing software that helps not-for-profits do more to help some of the most vulnerable people in the world. We want you to be as excited about this prospect as the rest of the team are!
Salary: £40,000 - £50,000
Perks: Working hours: Flexible. Friendly team and value-led organisation, generous training allowance, 22 days holiday & regular staff meet-ups
Apply now and work remotely at n3o Ltd
Apply
Front-end React.js Javascript Developer, Redux, Redux-Saga - Immediate Contract (Remote)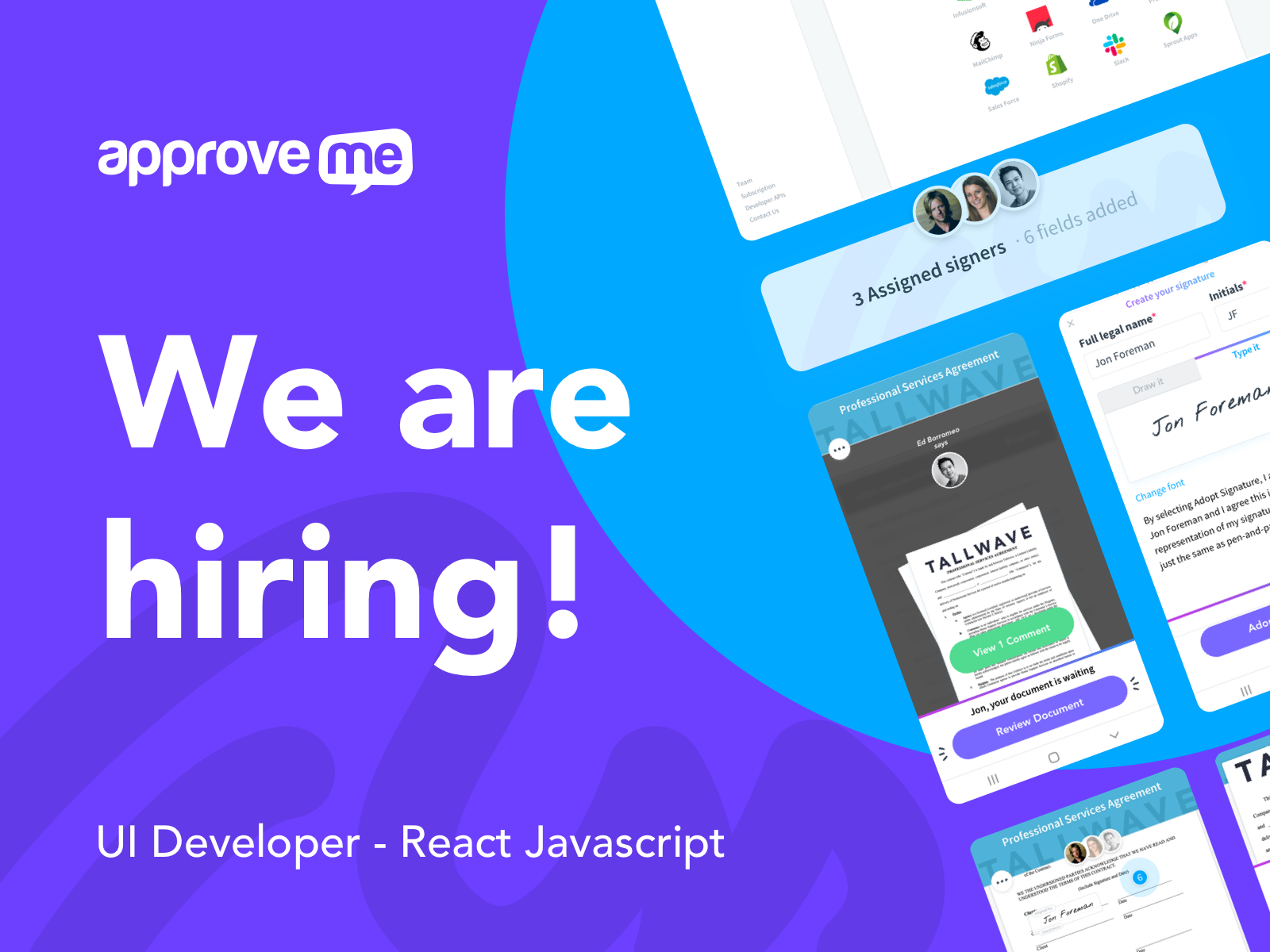 This is an opportunity that could change your portfolio forever.
ApproveMe is in immediate need of a two Full-time Freelance React JS developer's to work along side our product manager, UI/UX Designers, lead developer and UI engineers. We are building a powerful and gorgeous cloud-based Document Signing platform and our developers get to work on exciting and complex problems.
Our team is made up of wildly talented designers and developers with backgrounds working on products such as Active Campaign, Twitter, Atlassian, and Helpscout. Together we have been secretly crafting an absolutely inuitive, user-focused SaaS product (with personality, pizzazz, and plenty of unicorn shimmer) based off of 5+ years of user feedback from thousands of our customers. We will be launching in a 2-3 months, all we are missing is someone like you to jump on-board. If you are our developer, you'll learn a ton working with a creative, fun team who value your technical expertise.
Apply now and work remotely at ApproveMe
Apply
Jobs farther away