Front-end
remote Jobs
new
Chili Piper is seeking talented, motivated engineers to join our fully remote team building interactive data applications. As a part of growing front-end team, you will work with designers to constantly improving our users' experience. You will also collaborate with others throughout our organization and technology stack to build products that are revolutionizing the way our clients achieve their business goals.
On the front-end team, we feel strongly about developing solutions that are both technically and aesthetically sound. We invite you to bring your experience and perspective to conversations about the future growth of our applications and environment. We work closely together, with a healthy and non-combative review process aimed at improving code as well as developing each other's skills. In short, we strive to write solid, thoroughly tested, and readable code; and we are seeking a new contributor to our already highly effective team.
How We Work
Freedom and flexibility. We're a 100% distributed team working from around the world. Our team members can work from wherever they want in the world, as long as they show up on our weekly all hands meeting on Zoom.
Solve interesting problems. The software landscape has exploded. There are dozens of solutions for each problem. We want to be different. We come up with new angles on existing problems or invent better solutions to help companies with their sales and marketing. Then we turn these ideas into beautiful, smart software.
Autonomy and ownership. Working on a distributed team means you don't have someone micromanaging you or looking over your shoulder to make sure you're getting things done. We're a team of do-ers who take full ownership for their results.
Be helpful. Our first value as a company is help. Help our customers be successful. Help our prospects get the right information and make the right decision whether or not it includes our products. Help our team members reach their full potential.
Apply now and work remotely at Chili Piper
Apply
Senior Front End Developer
About Us
At Filestage we believe that broken workflows poison teams with miscommunication, friction, and frustration.
Our mission is to fuel teams with a rock-solid workflow. With our software, we empower people to produce
great results together and to be happier at work.
Over 500 companies all over the world already benefit from happier and more productive employees with
Filestage. We are a diverse team from around the globe going to make Filestage the easiest way for teams to
manage their content review process, and we want your help!
Apply now and work remotely at Filestage
Apply
Front-end React.js Javascript Developer, Redux, Redux-Saga - Immediate Contract (Remote)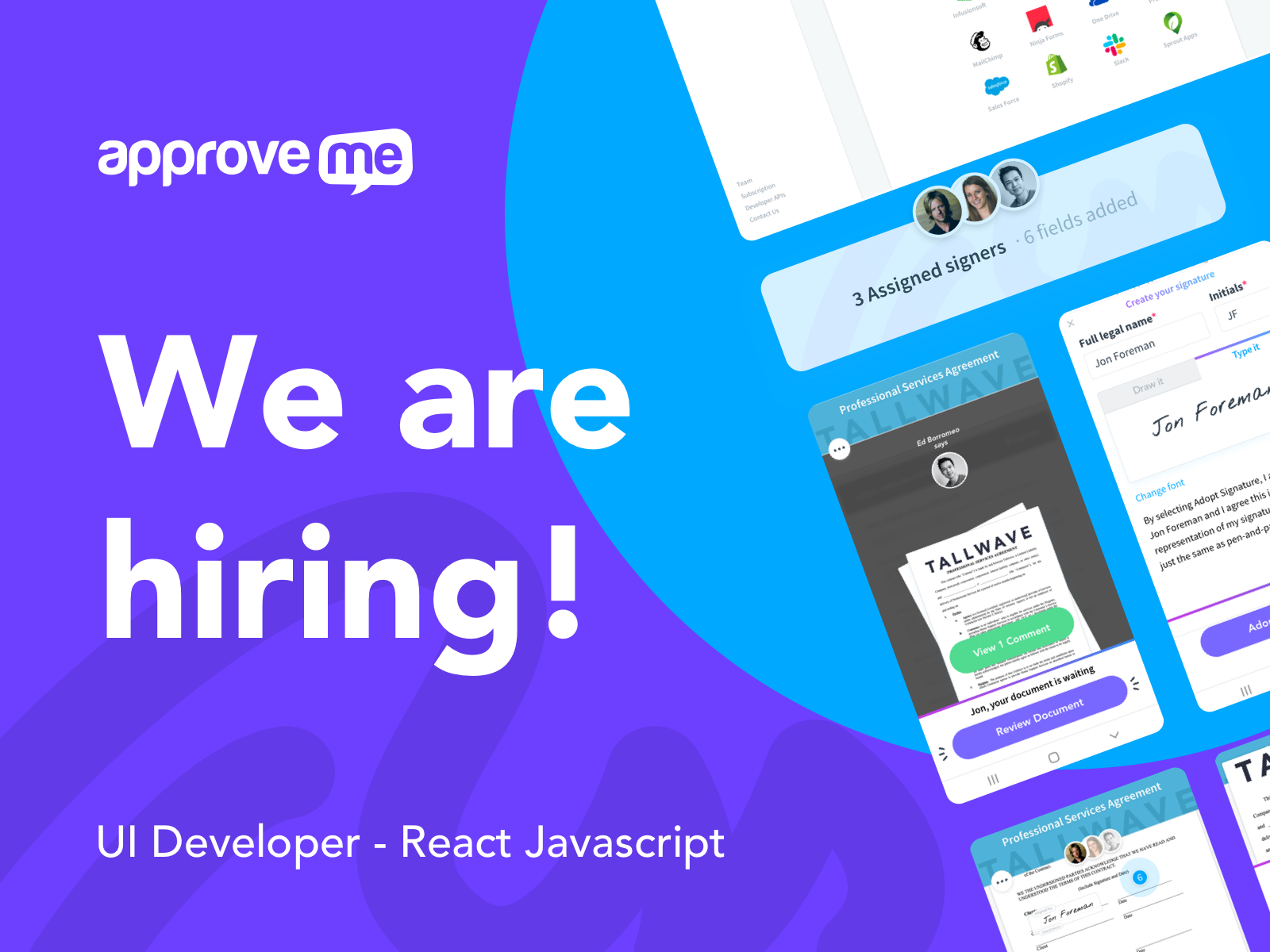 This is an opportunity that could change your portfolio forever.
ApproveMe is in immediate need of a two Full-time Freelance React JS developer's to work along side our product manager, UI/UX Designers, lead developer and UI engineers. We are building a powerful and gorgeous cloud-based Document Signing platform and our developers get to work on exciting and complex problems.
Our team is made up of wildly talented designers and developers with backgrounds working on products such as Active Campaign, Twitter, Atlassian, and Helpscout. Together we have been secretly crafting an absolutely inuitive, user-focused SaaS product (with personality, pizzazz, and plenty of unicorn shimmer) based off of 5+ years of user feedback from thousands of our customers. We will be launching in a 2-3 months, all we are missing is someone like you to jump on-board. If you are our developer, you'll learn a ton working with a creative, fun team who value your technical expertise.
Apply now and work remotely at ApproveMe
Apply
Full stack Meteor developer for a small SaaS company
Vianney, the CTO, was the French Meteor ambassador since 2013, organised 36 Meteor meetups. Developing Meteor projects full-time since then.
The Whole Package
Location: Planet Earth.
You just need the skills and drive to succeed in this role and the ability to work from anywhere.
How to Apply
In order for you to apply, simply send over a message including 2-3 projects / websites you've developed in the last 3 years!
We strive to make sure you never go more than seven days without hearing from us 😊
Talk soon ❤️
Apply now and work remotely at lempire
Apply