Front-end Jobs near
San Jose, CA
Sorry, no listings for this city at the moment.
Front-end React.js Javascript Developer, Redux, Redux-Saga - Immediate Contract (Remote)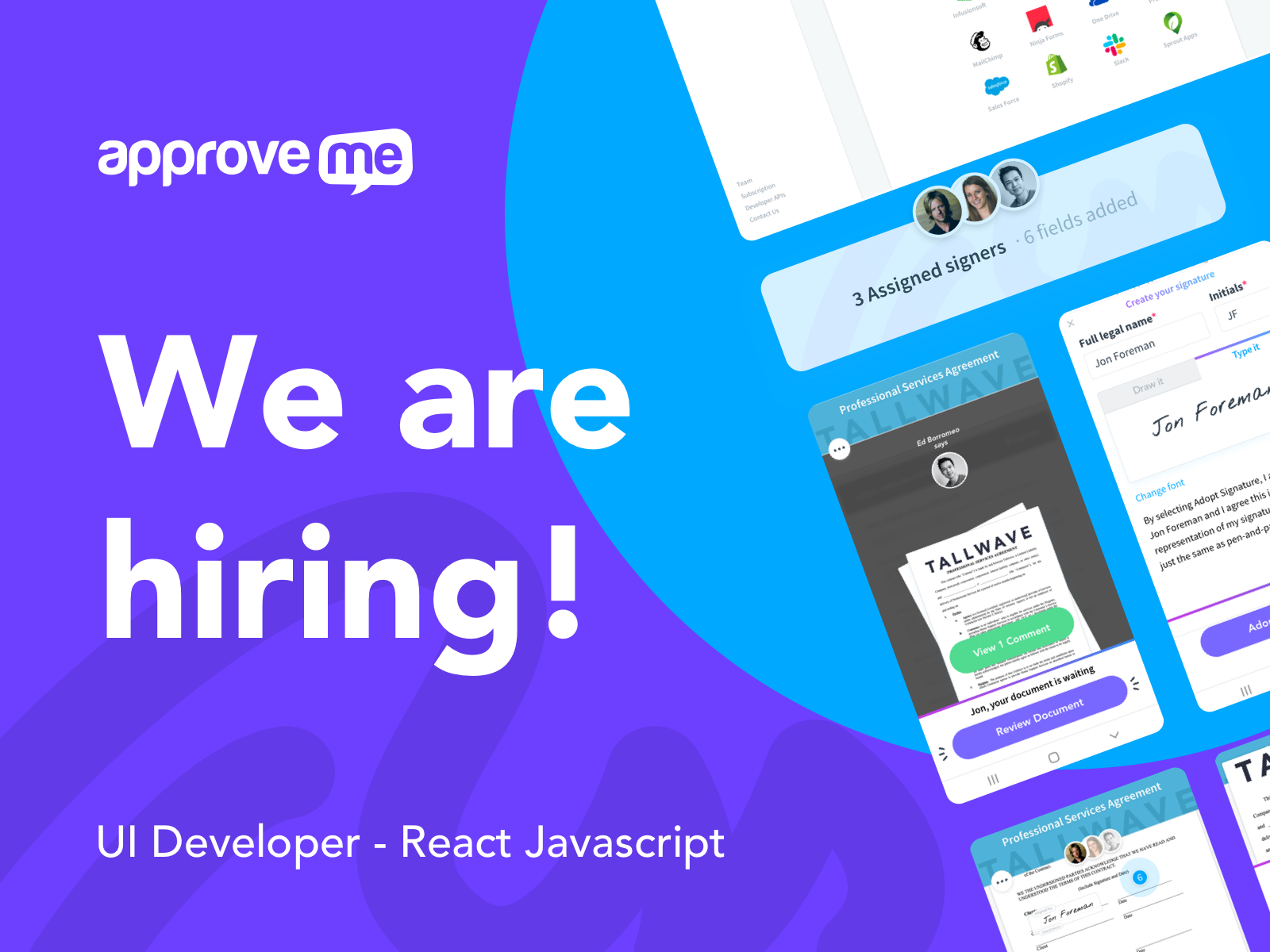 This is an opportunity that could change your portfolio forever.
ApproveMe is in immediate need of a two Full-time Freelance React JS developer's to work along side our product manager, UI/UX Designers, lead developer and UI engineers. We are building a powerful and gorgeous cloud-based Document Signing platform and our developers get to work on exciting and complex problems.
Our team is made up of wildly talented designers and developers with backgrounds working on products such as Active Campaign, Twitter, Atlassian, and Helpscout. Together we have been secretly crafting an absolutely inuitive, user-focused SaaS product (with personality, pizzazz, and plenty of unicorn shimmer) based off of 5+ years of user feedback from thousands of our customers. We will be launching in a 2-3 months, all we are missing is someone like you to jump on-board. If you are our developer, you'll learn a ton working with a creative, fun team who value your technical expertise.
Apply now and work remotely at ApproveMe
Apply
Front-End Engineer (REMOTE Europe) - Web components + React + ES6
At Vizibl, we're on a mission to help every company work together, better. We want to help all companies make a difference in the world by revolutionising the way they work together, empowering them to reach their full potential.
We're off to a great start too. Teams in some of the world's largest enterprise companies are already collaborating with their suppliers through Vizibl and transforming the way they work to drive innovation together.
We welcome people from all backgrounds who seek the opportunity to help build a future where every company sees the benefit of working openly and collaboratively. If you have the curiosity, passion, and collaborative spirit, work with us, and let's help every company work together, better.
Are you interested in building products that challenge the status quo in the enterprise space? Do you enjoy an abundance of autonomy with just the right amount of alignment? Vizibl is looking for an experienced Front End Engineer who is passionate about building beautiful solutions that solve complex problems. This is an opportunity to drive exciting new projects that will help change the way the world's largest companies work with each other. The position is remote and is full-time.
We're looking for a Front End Engineer to join one of our product squads to take ownership of several platform verticals to help develop new and exciting features as well as improve and maintain existing stuff.
We're working with some of the world's biggest companies from pharmaceuticals to telecoms. Our unique blend of Enterprise know-how coupled with our beautiful and usable products is one of the things our customers love about us.
2019 will be a critical year for Vizibl as we transition and grow rapidly, so you'll play a key role in helping ensure our product team values are deeply ingrained in our products. You'll also be involved in hiring to increase the size of the team later in the year. The ideal candidate is a self motivated person that thrives on a challenge. They don't settle for OK and have a desire to integrate themselves deeply into the working of the business.
As this is a fully remote position we'll be looking for strong communication skills and the ability to motivate yourself and your team to work independently.
If this sounds like your sort of challenge we'd love to hear from you.
Apply now and work remotely at Vizibl
Apply
Chili Piper is seeking talented, motivated engineers to join our fully remote team building interactive data applications. As a part of growing front-end team, you will work with designers to constantly improving our users' experience. You will also collaborate with others throughout our organization and technology stack to build products that are revolutionizing the way our clients achieve their business goals.
On the front-end team, we feel strongly about developing solutions that are both technically and aesthetically sound. We invite you to bring your experience and perspective to conversations about the future growth of our applications and environment. We work closely together, with a healthy and non-combative review process aimed at improving code as well as developing each other's skills. In short, we strive to write solid, thoroughly tested, and readable code; and we are seeking a new contributor to our already highly effective team.
Apply now and work remotely at Chili Piper
Apply
Jobs farther away
Sorry, no listings for this city at the moment.