Front-end Jobs near
San Jose, CA
Sorry, no listings for this city at the moment.
Your Day-to-day
This is a hands-on, fully-remote programming position. You'll be working on eCommerce platforms and CMSes like Magento, Shopify and WordPress. The core technologies you'll be working with are PHP, HTML, CSS, and JS.
Our projects are generally focused around making large, material changes to our clients' sites or designing and developing new sites from the ground up. You work closely with client stakeholders, our project managers, and other developers to design, develop and deploy features and updates that best serve our clients and their customers.
We have quite a bit of work booked for the next few months, so an ideal applicant will be ready to hit the ground running. Despite the amount of work we have, I strive to minimize context switching—if you're on a project, you shouldn't expect to be bombarded with unrelated tweaks on other projects here and there.
We're a small but quickly growing agency. As one of the early hires, there is opportunity for this to be a high impact position. An appropriately ambitious individual will have huge opportunity to lay the groundwork of the company's future.
About BranchLabs
BranchLabs is a small but rapidly growing fully remote eCommerce consultancy. We provide eCommerce strategy, design, and implementation services for our clients. Our clients are generally vertically integrated, branded B2C businesses. We help them sell more online, show their brand in the best light, and optimize their backend eCommerce processes.
Our reputation is built on delivering results. We take pride in the work we produce. The products we deliver are high quality inside and out, and they help our clients capitalize on real opportunities. We work closely with stakeholders on our clients' marketing teams, combining their understanding of their customers with our understanding of all things eCommerce. Together, we craft solutions that work for our clients and their customers.
Some Notes on Culture
Here are some of our values. They're always being refined based on what works and what doesn't.
We value clear, concise communication.
You can only produce high quality work if you have a clear understanding of the problem.
Context—understanding our clients and their customers—empowers individual contributors to find better solutions.
Free up time for interesting problems by automating repeatable tasks and learning your tools inside and out.
No process for process' sake. No meetings for meetings' sake. But there is a place for both.
Build or use tools to provide predictability and eliminate boring work.
Individual productivity is important to us, and it is hugely dependent on a minimally distracting, supportive environment.
Apply now and work remotely at BranchLabs
Apply
Job type: Permanent
Experience level: Senior
Role: Senior React Developer Location:
Location: United Kingdom - Remote
Industry: Agile Software Development
Company size: 1-10 People (growing)
Passionate about web development? Have plenty of experience working in React and JavaScript with a proven track record delivering large scale systems? Looking for a challenging role to help architect, design and build a cutting-edge React application?
We need an ambitious, motivated and talented developer to join our team building the next generation of software aimed at the not-for-profit sector.
We are a n3o - A UK based startup with a distributed development team.
What we're looking for:
We are looking for a React JS developer to work alongside the backend team on our CRM system. You will be working as part of a globally distributed team so this role is open to candidates based anywhere in the UK. This takes a high level of motivation and the ability to self-manage. This role requires excellent written and verbal English communication skills and the ability to communicate professionally with both technical and non-technical people.
The role is unique in that not only will you be working with exciting technology and a talented & enthusiastic team, you have the chance to be part of something truly worthwhile developing software that helps not-for-profits do more to help some of the most vulnerable people in the world. We want you to be as excited about this prospect as the rest of the team are!
Salary: £40,000 - £50,000
Perks: Working hours: Flexible. Friendly team and value-led organisation, generous training allowance, 22 days holiday & regular staff meet-ups
Apply now and work remotely at n3o Ltd
Apply
Front-end React.js Javascript Developer, Redux, Redux-Saga - Immediate Contract (Remote)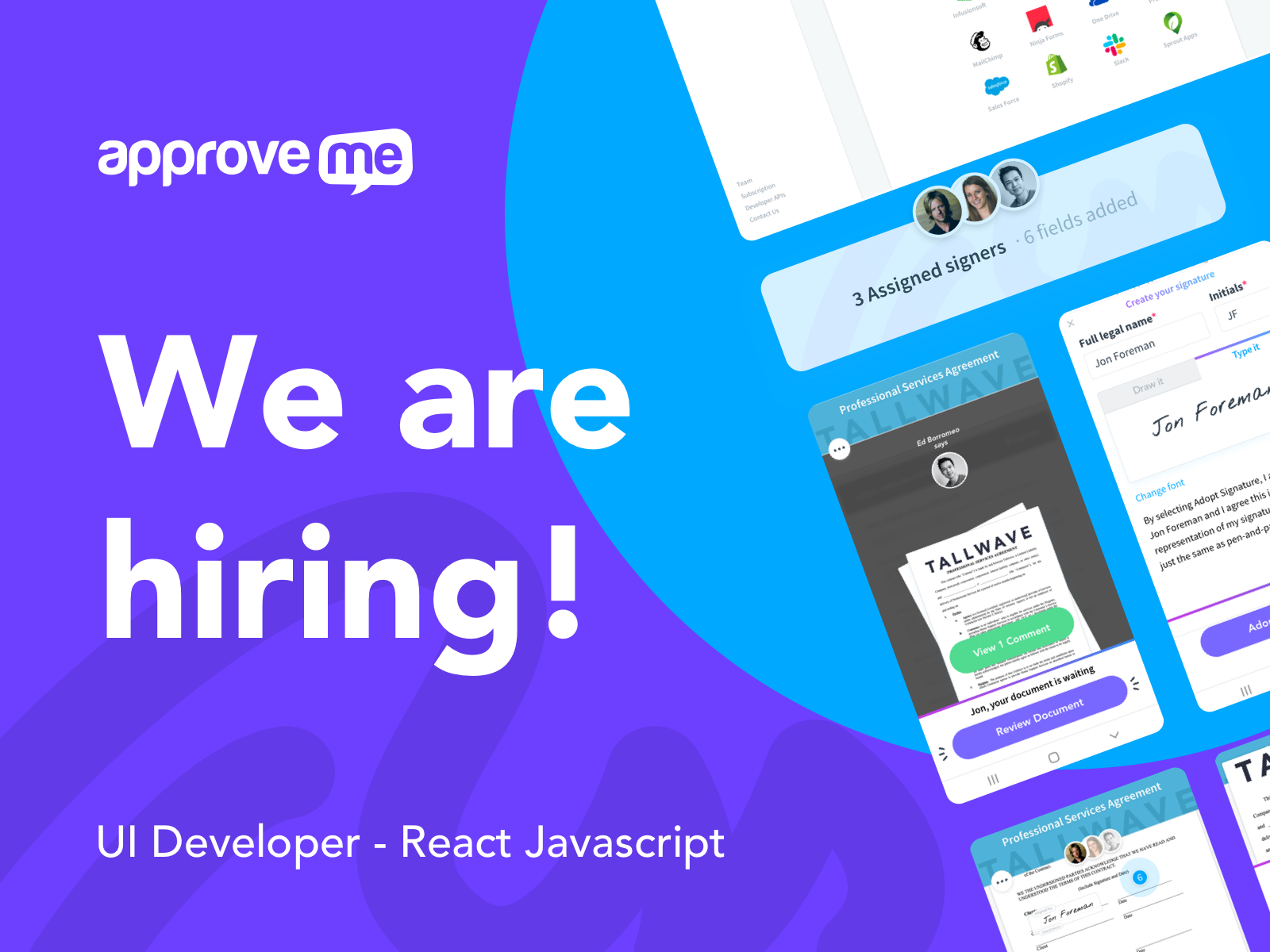 This is an opportunity that could change your portfolio forever.
ApproveMe is in immediate need of a two Full-time Freelance React JS developer's to work along side our product manager, UI/UX Designers, lead developer and UI engineers. We are building a powerful and gorgeous cloud-based Document Signing platform and our developers get to work on exciting and complex problems.
Our team is made up of wildly talented designers and developers with backgrounds working on products such as Active Campaign, Twitter, Atlassian, and Helpscout. Together we have been secretly crafting an absolutely inuitive, user-focused SaaS product (with personality, pizzazz, and plenty of unicorn shimmer) based off of 5+ years of user feedback from thousands of our customers. We will be launching in a 2-3 months, all we are missing is someone like you to jump on-board. If you are our developer, you'll learn a ton working with a creative, fun team who value your technical expertise.
Apply now and work remotely at ApproveMe
Apply
Jobs farther away
About Codal
Codal is a UX design and development agency with a focus on blending an Agile process with the latest technologies. Our clientele has ranged from small business to the Fortune 100, but our philosophy has always remained the same: to empower brand visibility and deliver the most elegant web and mobile solutions possible.
Roles & Responsibilities
Codal is searching for an experienced React Native developer, a software engineer who specializes in the mobile app framework.
Build pixel-perfect, buttery smooth UIs across both mobile platforms.
Leverage native APIs for deep integrations with both platforms.
Diagnose and fix bugs and performance bottlenecks for performance that feels native.
Reach out to the open source community to encourage and help implement mission-critical software fixes-React Native moves fast and often breaks things.
Maintain code and write automated tests to ensure the product is of the highest quality.
Transition existing React web apps to React Native.
Requirements / Must Haves
Education: Bachelor's Degree in IT, Computer Science, Computer Programming, or a similar field
4+ years of experience developing within the React Native framework
4+ years of experience in front-end technologies including, but not limited to, JavaScript, AJAX, HTML, CSS, SASS, XML
Passionate care of troubleshooting & debugging skills
Interest in staying current and applying the most current best practices
Able to work effectively in a fluid, fast-paced environment
Disciplined approach to testing and quality assurance
Why Work For Codal
As a Codal employee, you're a member of a dedicated & driven organization, composed of industry visionaries and auteurs. We take the utmost pride in our work and are truly passionate about the services we provide. As a world-class agency, we offer all of the benefits of an enterprise company, in a friendlier, tight-knit office community.
Apply
React Angular Software Engineer
MakeMydeal, a new Cox Automotive company, specializes in creating the absolute best online communication experience for automotive car purchases today. This is an exciting time for our business as we have developed a leading eCommerce solution that helps automotive consumers connect with car dealerships to agree on the terms of their deal online before visiting the dealership.
The React Angular Software Engineer should be a full stack Javascript engineer who is deeply technical and works very well in an agile, dynamic, team oriented environment. This individual must be eager and capable of learning new skills and technology, and be motivated to work in a fast paced atmosphere where wearing multiple hats is encouraged. This position will report to the Sr Delivery Manager of the core product.
Technology We Use:
JavaScript, React, Redux, Node, Angular, Seneca, Mongo, HTML, CSS
Your Role:
Develop new or maintain existing programs based on specifications

Develop, implement and maintain unit tests of programs

Actively participate in agile team activities

Participate in functional test planning and testing for the assigned applications, functional areas or projects

Participate in problem solving and troubleshooting for the assigned applications, functional areas or projects

Share knowledge by effectively documenting work

Stay current with changes in the technical area of expertise

Develop and maintain a thorough knowledge of the assigned applications, functional areas or projects

Actively support MakeMyDeal products across web and mobile platforms
Apply
TradeBlock is a venture-backed company servicing financial firms with: crypto currency trading technology, institutional-grade market data, as well as blockchain data and analytics. We are a technology company focused on building the foundation for the future of finance, using the most advanced blockchain and crypto currency infrastructure.
We are looking for candidates excited to shape this future by contributing to the crypto and blockchain industries through an industry-leading firm. This full-time role offers a competitive base salary, benefits, and a dynamic work environment.
TradeBlock provides an advanced electronic trading platform for crypto currencies that is used by some of the industrys largest participants. It includes over 30 pages with real-time charts, quoting and trade confirmation management, advanced exchange routing and execution, reporting and various middle- and back-office tools. TradeBlock also hosts a number of publicly accessible tools to support the digital currency and public blockchain industry. Developers should be comfortable with a single page app built in React with served through Django.
Benefits
Competitive salary
Health, dental and vision insurance
Team lunches, snacks, coffee and refreshments bar
Robust work stations
Strong engineering culture
Apply