Front-end Jobs near
Seattle, WA
Sorry, no listings for this city at the moment.
Frontend Developer - React / Redux
new
IDEX is a Software as a Service (SaaS) startup on a mission to shatter the myth that China can't innovate. We believe strongly in the innovative potential of employees all across China, and are committed to empowering their creative potential with our innovation management software. We provide our software to companies with 200 or more employees, allowing every employee to freely express their ideas and use them to benefit the employees themselves, their customers, and business.
We are a small, committed team that is rapidly growing. Our co-founders are two successful entrepreneurs who have established multi-million dollar businesses in markets across the globe. If you share our vision and want to be part of transforming force for China's innovation scene, come and join us!
You will be responsible for turning UI/UX designs to actual code that will produce visual elements of our Idea Management Software that our users can interact with. You will work closely with both our designers and with our backend developers.
Apply now and work remotely at IDEX Innovation
Apply
Job type: Permanent
Experience level: Senior
Role: Senior React Developer Location:
Location: United Kingdom - Remote
Industry: Agile Software Development
Company size: 1-10 People (growing)
Passionate about web development? Have plenty of experience working in React and JavaScript with a proven track record delivering large scale systems? Looking for a challenging role to help architect, design and build a cutting-edge React application?
We need an ambitious, motivated and talented developer to join our team building the next generation of software aimed at the not-for-profit sector.
We are a n3o - A UK based startup with a distributed development team.
What we're looking for:
We are looking for a React JS developer to work alongside the backend team on our CRM system. You will be working as part of a globally distributed team so this role is open to candidates based anywhere in the UK. This takes a high level of motivation and the ability to self-manage. This role requires excellent written and verbal English communication skills and the ability to communicate professionally with both technical and non-technical people.
The role is unique in that not only will you be working with exciting technology and a talented & enthusiastic team, you have the chance to be part of something truly worthwhile developing software that helps not-for-profits do more to help some of the most vulnerable people in the world. We want you to be as excited about this prospect as the rest of the team are!
Salary: £40,000 - £50,000
Perks: Working hours: Flexible. Friendly team and value-led organisation, generous training allowance, 22 days holiday & regular staff meet-ups
Apply now and work remotely at n3o Ltd
Apply
Front-end React.js Javascript Developer, Redux, Redux-Saga - Immediate Contract (Remote)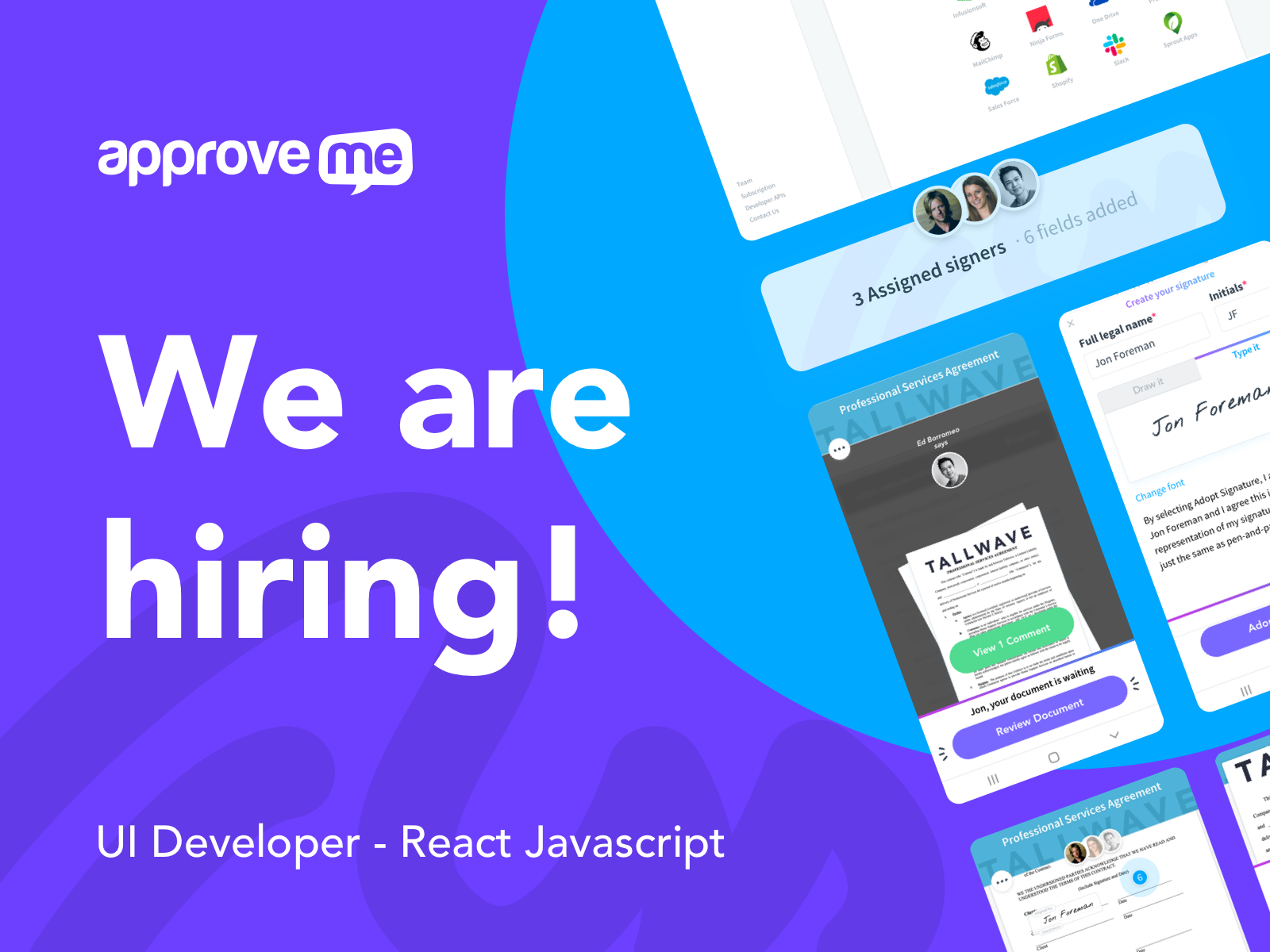 This is an opportunity that could change your portfolio forever.
ApproveMe is in immediate need of a two Full-time Freelance React JS developer's to work along side our product manager, UI/UX Designers, lead developer and UI engineers. We are building a powerful and gorgeous cloud-based Document Signing platform and our developers get to work on exciting and complex problems.
Our team is made up of wildly talented designers and developers with backgrounds working on products such as Active Campaign, Twitter, Atlassian, and Helpscout. Together we have been secretly crafting an absolutely inuitive, user-focused SaaS product (with personality, pizzazz, and plenty of unicorn shimmer) based off of 5+ years of user feedback from thousands of our customers. We will be launching in a 2-3 months, all we are missing is someone like you to jump on-board. If you are our developer, you'll learn a ton working with a creative, fun team who value your technical expertise.
Apply now and work remotely at ApproveMe
Apply
Jobs farther away