Front-end Jobs near
Seattle, WA
We're always looking for passionate software developers to contract with us on projects. Projects vary in terms of industry, breadth, and duration so we're continuously looking to build a roster of people with a variety of expertise and availability. Our current preferences for a contract developer include:
Proven full-stack experience with React and/or React Native and JavaScript more generally

Ideal candidates will also have experience with TypeScript and/or GraphQL
Beyond those qualities, here's a more general description of what you'll do and the basic requirements for joining us under any contract:
As a Developer, you'll be contributing to the successful delivery of digital products. You articulate the objective rationale behind your coding decisions, working with your teammates to ensure those align with business and audience needs. You'll be switching between setting direction, creating software, and helping your teams constantly improve. You handle it with ease through solid time management skills, enthusiastic client services, and an inspiring attitude. You thoughtfully apply the latest tools, trends, and practices of the development alongside those that are more tried-and-true.
In your day-to-day you will:
Collaborate with your project team to evaluate a product experience holistically, identify next steps and deliver the individual features that make up the product

Objectively explain and represent your contributions and deliverables to your team and client

Clearly communicate with your project team to make sure they have full context of your work and that you have the same of theirs, jumping in on other tasks as needed

Take on various tasks, development-related or not, to support different processes and needs on your project teams

Collaborate directly every day with designers, developers, engagement managers, and clients
REQUIREMENTS
**You are an ambitious developer
**You don't believe in resting on your laurels and easily tackle situations of ambiguity to figure out how to keep yourself and your work moving forward.

**You are a collaborative project contributor
**You work together with your project team to understand, act, and deliver on next steps translated from product and client needs.

**You are an adaptive contributor
**You're eager to jump in on tasks to support your team as needed, with no ego or complaints.

**You are a student of business and development practices
**You want to constantly improve client service, business, and software development practices in yourself and your team.
Experience
3+ years of software development experience (ideally w/experience in a client services or agency environment)

Proficiency w/Javascript (both in-browser and server-side with Node.js) and React

(Preferred) Experience with TypeScript and/or GraphQL

(Preferred) Demonstrated practice w/test-driven/behavior-driven product development

Strong communication, client services, and interpersonal skills

Fierce passion about collaboration and the way you develop software

Understanding of integrated development practices and experience directly collaborating with design teams
Apply
Senior Front-End Engineer
At Instructure, we believe in the power of people to grow and succeed throughout their lives. Our goal is to amplify that power by creating intuitive products that simplify learning and personal development, facilitate meaningful relationships, and inspire people to go further in their educations and careers. We do this by giving smart, creative, passionate people opportunities to create awesome. And that's where you come in:
We are looking for a Senior/Lead Front-End Engineer with deep experience in front-end application logic and modern Javascript frameworks to help build data centric features into our Canvas platform. We look for engineers passionate about using data to gain insight, drive behavior and improve our products. Our software helps millions of users learn and grow. Come help accelerate the learning process by developing data centric features for K-12, higher education and corporate users.
Culturally our team will look and feel very much like a highly collaborative start-up. We value innovation, so much so that we have quarterly Hackweeks; a week each quarter to work on relevant pet projects and features. Most of our work is open source, even our primary product (Canvas). Check us out on Github: www.github.com/instructure.
Our Seattle office is located in the Pacific Building, 720 3rd Avenue, 15th Floor Seattle, WA 98104.
What we do:
The Instructure suite of SaaS applications produces terabytes of events and student information weekly. Your challenge will be to create the systems that organize this data and return insights to students, teachers and administrators. This team engineers the data and analytics platform for the entire Instructure application portfolio.

This is a growing team at Instructure with the opportunity to provide tangible positive impact to the business and end users. We are looking for creative, self-motivated, highly collaborative, extremely technical people who can drive a vision to reality.

We're building innovative web applications. By leveraging single page application design, ES6, CSS3, and other cutting edge technologies, we hope to bring the richness of native desktop and mobile apps to the web.

We use the latest tools to support progressive browsers and companies: you can leave your IE6 hacks at home.

We are cloud native. For this job, that means bringing the fault-tolerant and high availability principles that power the cloud to the front-end to deliver lightning fast, ultra-reliable applications that delight our users.
What we look for:
Breadth of experience across languages and frameworks.

Deep knowledge of JavaScript, including the latest features in ES6.

Production experience with modern JS frameworks like React.

Demonstrated experience unit testing JavaScript applications to ensure application quality.

Capable communicators passionate about product development and user experience.

Autodidacts who love continual learning and exploration.

Engineering leaders who care about coding standards and writing lean, maintainable software.

5+ plus years of professional software development experience.

BS or greater in Computer Science preferred.
Get in on all the awesome at Instructure.
Competitive salary, equity, and 401k

Employee stock purchase plan

100% paid medical, dental, disability, and life insurance

HSA program, vision, voluntary life, and AD&D

Tuition reimbursement

Paid time off, 9 paid holidays, and flexible work schedules

Transportation allowance

Gym club reimbursements and rewards-based fitness tracking

Latest software and tools with top of the line equipment

Food, lots of food
We've always believed in hiring the most awesome people and treating them right. We know that the more diverse we are, the more diverse our ideas will be and when we openly welcome those ideas, our environment is better and our business is stronger.
At Instructure we participate in E-Verify and yes, in case you didn't catch it from the above, we are an Equal Opportunity Employer.
Apply
Front-end React.js Javascript Developer, Redux, Redux-Saga - Immediate Contract (Remote)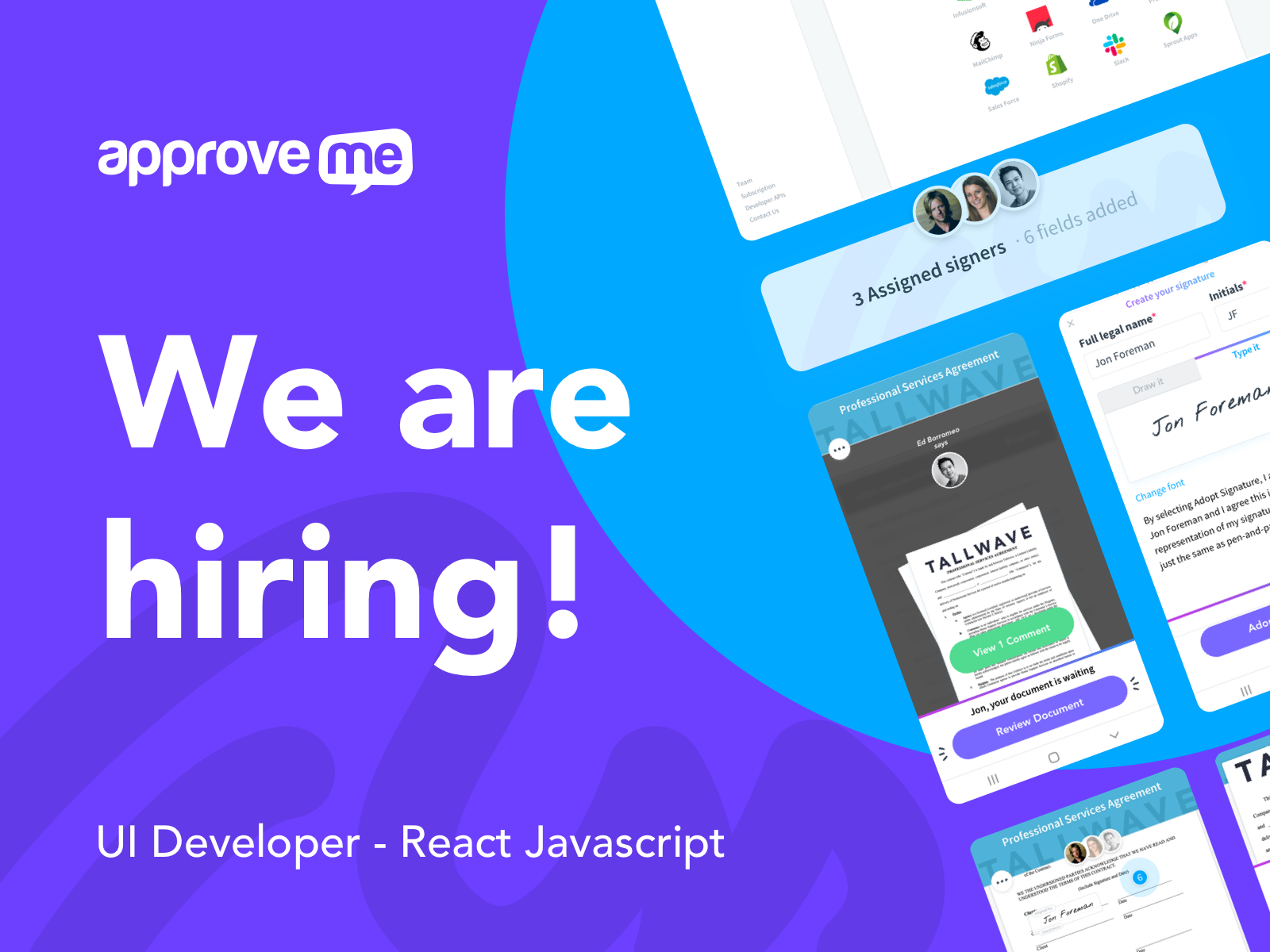 This is an opportunity that could change your portfolio forever.
ApproveMe is in immediate need of a two Full-time Freelance React JS developer's to work along side our product manager, UI/UX Designers, lead developer and UI engineers. We are building a powerful and gorgeous cloud-based Document Signing platform and our developers get to work on exciting and complex problems.
Our team is made up of wildly talented designers and developers with backgrounds working on products such as Active Campaign, Twitter, Atlassian, and Helpscout. Together we have been secretly crafting an absolutely inuitive, user-focused SaaS product (with personality, pizzazz, and plenty of unicorn shimmer) based off of 5+ years of user feedback from thousands of our customers. We will be launching in a 2-3 months, all we are missing is someone like you to jump on-board. If you are our developer, you'll learn a ton working with a creative, fun team who value your technical expertise.
Apply now and work remotely at ApproveMe
Apply
Backend Developer (Node.js)
We are UBIO and we automate the web.
We are looking for an optimistic and resilient engineer who has developed markedly complex services in Javascript or Typescript. You would have been involved with platforms and services that perform and scale well on the cloud and you also enjoy discussing complex engineering topics. We are a small Engineering team, relying on tools like GitHub and Slack to keep us communicating efficiently. We also rely on architectural principles and guidelines to ensure our colleagues can pick up our work in the future, if necessary.
Apply now and work remotely at UBIO
Apply
Chili Piper is seeking talented, motivated engineers to join our fully remote team building interactive data applications. As a part of growing front-end team, you will work with designers to constantly improving our users' experience. You will also collaborate with others throughout our organization and technology stack to build products that are revolutionizing the way our clients achieve their business goals.
On the front-end team, we feel strongly about developing solutions that are both technically and aesthetically sound. We invite you to bring your experience and perspective to conversations about the future growth of our applications and environment. We work closely together, with a healthy and non-combative review process aimed at improving code as well as developing each other's skills. In short, we strive to write solid, thoroughly tested, and readable code; and we are seeking a new contributor to our already highly effective team.
Apply now and work remotely at Chili Piper
Apply
Jobs farther away